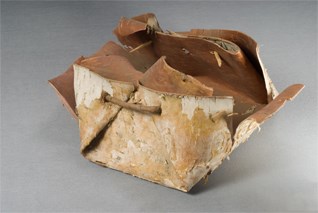 Fourth of July festivities are never complete without fireworks and exuberant children. Your holiday celebrations last year may very well have mirrored those in Port Alsworth in the summer of 1953. However, fireworks in the hands of kids can lead to terrible accidents. Such was the case 61 years ago when the children's fun and games resulted in a forest fire.

Thus begins the story of one particular birch bark basket. Baskets made from birch trees have a long history and significance in the inland Dena'ina culture near Lake Clark National Park and Preserve. This birch basket was hastily made by a woman from Nondalton to carry water to fight the fire near Port Alsworth. The story reminds us that kids will be kids, and good neighbors are a blessing.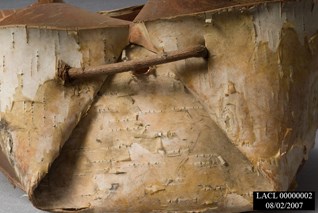 Jim Scott, a BLM official in Homer, learned of the fire and traveled to Nondalton to recruit a crew to fight the fire. However, since most of the men were in Bristol Bay commercial fishing at the time, Scott's crew was nearly all women. This mostly all-woman crew came to Port Alsworth and fought the fire along with local Port Alsworth residents and visitors, including Ray Woodward, a visitor from Nevada. Together, they spent a week trying to suppress the fire.
Baskets like this one were quickly made in order to carry water. While it is obvious this basket was made hastily over half a century ago, the skill of the basket maker is still obvious to the modern day viewer. The purposeful folds, the wooden splints holding the basket together, the placement of a handle on the top (now detached), and the overall construction is clear evidence the maker was very good at what she did. (Watch a video about the Dena'ina way of making birch bark baskets)

The fire ended up burning until the fall rains came-it burned all around Tanalian Mountain, up to Currant Creek, and even jumped the Tanalian River. This fire, started over 60 years ago, brought all sorts of people together-women and men, Dena'ina and Euroamerican, residents and visitors alike to attempt to save their community. This basket, made quickly with no intention of being saved for posterity, reminds us we don't need a lot to help our neighbors or to better our communities.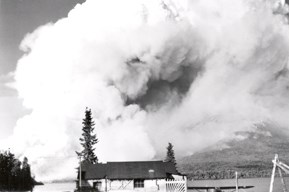 After 1953, the Village of Nondalton began sending crews of forest fire fighters throughout the Alaska Territory to fight wild land fires. Seasonal Nondalton fire crews became more important to the village economy as their reputation for toughness and competence grew. Nondalton crews to this day still fight fires throughout Alaska as well as in the Lower 48.