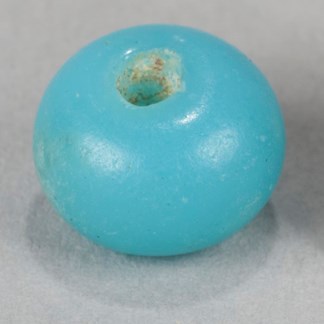 Glass beads - while machine-made and ubiquitous today - were once very valuable trade items to people in the Lake Clark region. These tiny colorful objects, when found in historic archaeological sites, can tell us many things including the approximate dates of an archeological site's occupation, the preferences of the past occupants, and who they traded with. The beads featured here were all found in the historic Dena'ina Athabascan village of Kijik (known in Dena'ina as 'Qizhjeh') on the shores of Lake Clark, which is now both a National Historic Landmark and an Archaeological District. The presence of both early and late bead types suggest that the acquisition of trade goods began in the late eighteenth century and continued throughout the occupation of the site, which was abandoned circa 1910.
Glass beads came to Alaska soon after European contact, and were traded with native Alaskans for a variety of things; they were used as currency. The Dena'ina, like many other native Alaskan groups, quickly adopted beads and used them for jewelry, dress, and ornamentation. Before beadwork, the dominate object used for elaborate and intricate designs were porcupine quills. Beads co-existed with quillwork for a time, but because beads were easier to work with and came in a variety of deep colors, they almost completely replaced porcupine quills.
Over the years, more than 1,200 glass trade beads have been discovered in Kijik. The village, whose name means "A Place Where People Gathered," never housed its own trading post; instead the residents received European goods like glass beads through trade with other Native villages, through their travels to trading posts in places like Iliamna, or via the rare group of traveling Europeans that came through Lake Clark. Below are some high lights of beads found at Kijik since the area became a National Park and Preserve in 1980.