From 2008-2010, a series of small-scale archeological investigations were conducted prior to and during the restoration of a historic cabin and outbuildings located near present-day Port Alsworth on the shores of Lake Clark. In 2008, a small hearth of fist-sized fire cracked cobbles was exposed. Wood charcoal was found alongside the hearth. When archeologists radiocarbon dated this charcoal, they discovered the hearth was around 4,000 years old. This makes this site the oldest radiocarbon-dated site along the shore of Lake Clark—pretty exciting news. Local Dena'ina elders have named the site Dazq'en, or "A Fire is Burning."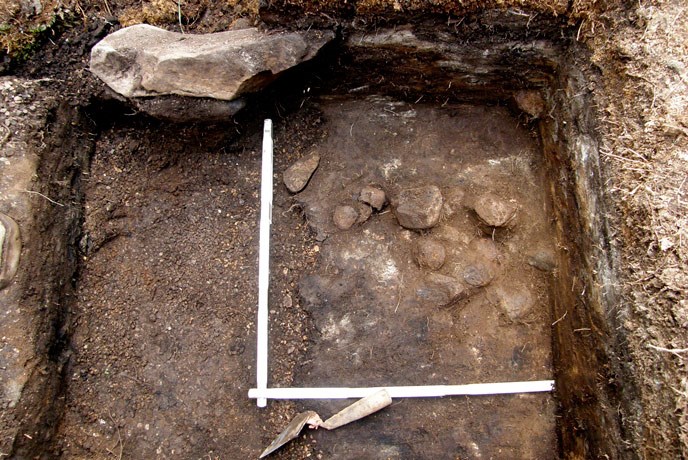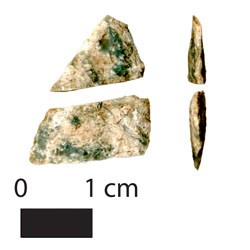 Although no artifacts were found directly associated with the hearth, artifacts discovered in other components of the site were chipped stone tools, a large cobble, a tool fragment, seven utilized flakes and nearly 2000 small flakes of various lithic types. It is interesting to note that charred bedstraw seeds were also recovered from the site. Bedstraw, known as ts'elevni vets'ełq'a ("wormwood's partner") in Dena'ina, had several traditional medicinal uses by the Inland Dena'ina. Several radiocarbon dates from charcoal associated with these artifacts span 2000 years. The thousands of small flakes found indicate this was an area where people sharpened and maintained their tools rather than made them from scratch. This fact, combined with the isolated hearth that was found, suggest this area was probably used for small temporary camps. Most likely, people stopped to camp thousands of years ago along a travel route, likely connecting Lake Clark with Kontrashibuna Lake then onto the Pedro Bay area of Iliamna Lake via Chekok Pass. Iliamna Lake was a corridor for cultural exchange across Cook Inlet, into upper and lower Cook Inlet, to Kodiak Island, the Gulf of Alaska and beyond. Pictured at right is a triangular biface, found at the site above. It has been broken into two pieces.

The variety of lithic material found at the site, the radiocarbon dates spanning 2000 years, and the location of another archeological site in the same vicinity all indicate that for thousands of years, a variety of cultural groups traveled thru present day Port Alsworth from a diversity of points along what was probably a leg in an extensive and ancient network of cultural exchange. Amazing what a hearth can tell us!