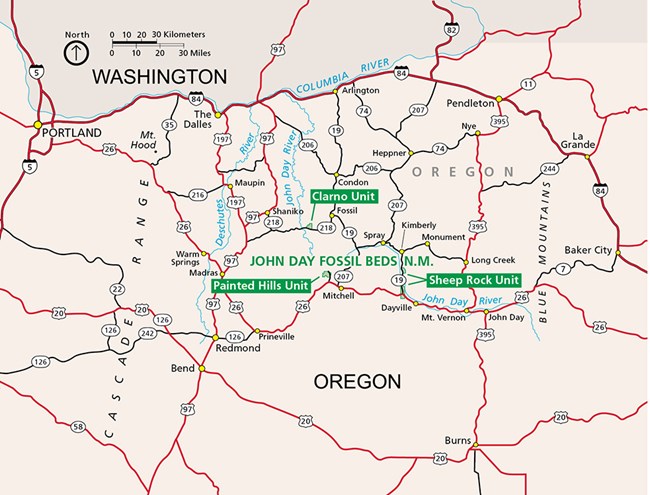 One Park, Three Units
John Day Fossil Beds National Monument consists of three units:
Sheep Rock
,
Painted Hills
, and
Clarno
. These three locations are dispersed through east-central Oregon. Because of the winding roads, visiting all three units is difficult to do in a single day, but is possible with an early start. The amount of time available and the route of travel taken are often the determining factors on which units you're able to visit.
Distances & Drive Time Between Units
Sheep Rock to Painted Hills - 45 mi. (1 hr.)
Painted Hills Unit to Clarno Unit - 75 mi. (1.5 hrs.)
Clarno Unit to Sheep Rock Unit - 81 mi. (2 hrs.)
Maps and More Information
This John Day Camping & Services Map (pdf file) shows the three units and the local highways which includes campgrounds, services, and certain travel information as well as GPS addresses for the three units of the monument. Please note that some services shown on the map above may not be open 7 days per week so check with the local chambers of commerce for updated information. Find out more information about Traffic & Travel Tips.