Clarno Unit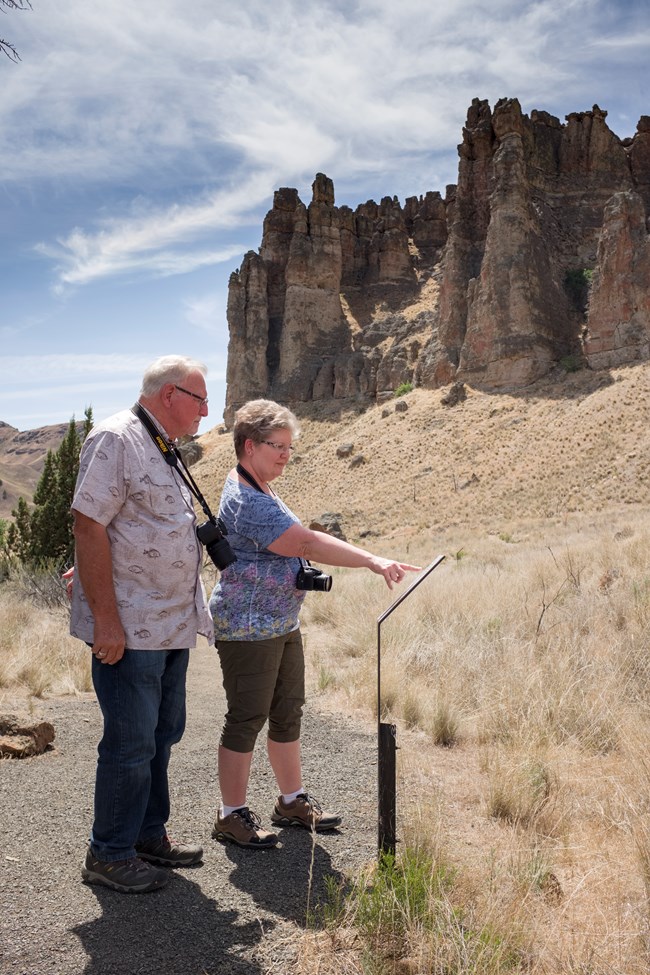 The Clarno Unit is located 18 miles west of the town of Fossil, Oregon. The Palisades are the most prominent landform and are volcanic lahars, or mudflows, that formed 54-40 million years ago in a lush semi-tropical rainforest environment. Tiny four-toed horses, huge rhino-like brontotheres, crocodilians, and meat-eating creodonts that once roamed ancient jungles are now found in the rocks of the Clarno Unit, as well as an incredibly diverse range of plant life. Leaves, fruits, nuts, seeds, and petrified wood from 173 species of trees, vines, shrubs, and other plants have been found here thus far.
Glimpses of fossilized plants can be seen along the cliff walls.
Unit Features:
Trails

Picnic Area

Restroom Facilities

Water is not available
Trails at the Clarno Unit

The Palisades Trailhead is located ¼ mile west of the picnic area along Highway 218. The Trail of Fossils and the Clarno Arch Trail start at the trailhead. There is limited parking at this area. The Geologic Time Trail connects the trailhead with the picnic area, where additional parking is available.

Trail of Fossils (¼ mile loop) This is the only trail in the park where visitors can readily see fossils in the rocks. Large boulders strewn below the Palisades contain dozens of visible plant fossils from the near-tropical forest that blanketed the region 44 million years ago.

Clarno Arch Trail (¼ mile round trip) A 200 foot elevation climb brings visitors directly under a natural arch cut into the cliff by erosion. Petrified logs are visible in the cliff face.

Geologic Time Trail (¼ mile each way) This trail connects the picnic area and trailhead. Signs along the way note events of the last 50 million years. Each foot of trail represents 37,000 years.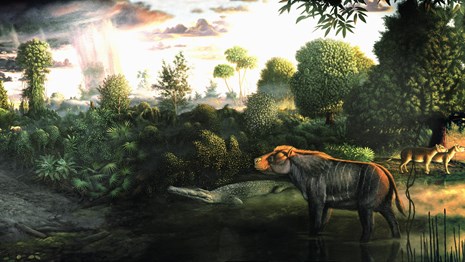 Clarno Nut Beds (44 Million Years ago)
Over 170 identified plant fossil species have been identified and includes leaves, seeds, nuts, and wood.
Hancock Mammal Quarry- 40 Millions Years
Temperatures and rain decrease compared to the Clarno Nut Beds but remained mostly above freezing.
Other Places to Visit in the Monument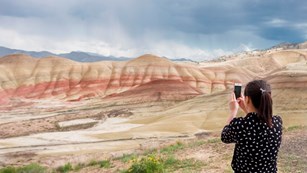 Painted Hills Unit
The colorful stripes and gentle ripples of the Painted Hills makes it one of the most popular destinations in the park.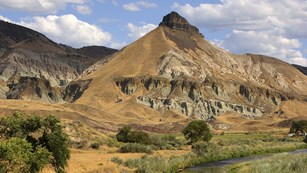 Sheep Rock Unit
Home to the Thomas Condon Paleontology Center and the Cant Ranch Museum, the Sheep Rock Unit also has many trails and scenic views.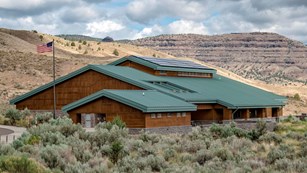 Thomas Condon Paleontology Center
The Thomas Condon Paleontology and Visitor Center displays fossils from the entirety of the John Day Fossil Beds.


Last updated: September 26, 2021