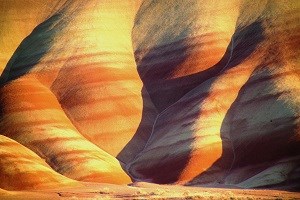 View the Painted Hills
The Painted Hills Unit is located about 9 miles northwest of the town of Mitchell, Oregon. Distinguished by varied stripes of red, tan, orange, and black, this area preserve a sequence of past climate change. The Painted Hills also contains a diverse assemblage of leaf fossils aging 39-30 million years old.
Keep the Painted Hills, Painted!
Don't Hurt the Dirt! Stay on the trail and tell a ranger if you see someone whose behavior may hurt them or the park. Take the Don't Hurt the Dirt pledge today! Tag #DontHurtTheDirt and encourage others to do the same.
Unit Features:
Trails that range in length of 0.25 mile to 1.3 miles.
Picnic Area
Restroom Facilities
Drinking water typically available May - September
Wildflowers are typically in bloom April- May.