Painted Hills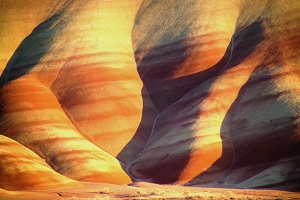 Unit Features: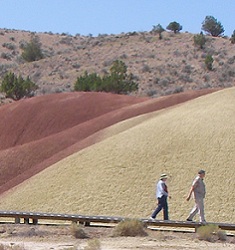 Trails and Hikes

There are many short trails located in the Painted Hills unit of the monument. Trail Information Map Each trail gives you a different perspective of the park, ranging from panoramic views of the hills to boardwalks that bring you alongside the impressively colored hues of clay.

Please protect the Painted Hills by staying on trails, as walking on the clay hills is prohibited and can severely damage them. In the summertime, prepare for high temperatures by taking water (available at the picnic area) with you on the trails.

The yellows, golds, blacks, and reds of the Painted Hills are beautiful at all times of the day, but are best lit for photography in the late afternoon. Changing light and moisture levels can drastically affect the tones and hues visible in the hills. The seasons can also change the look of the Painted Hills radically. Spring brings the yellow and purple wildflowers that grow in drainages and sluices of the hills. Winter can blanket the hills in a white coat, concealing the once vibrant hues until the snow melts, revealing interspersed stripes of gold and red.