Natural Resources Monitoring at Dinosaur National Monument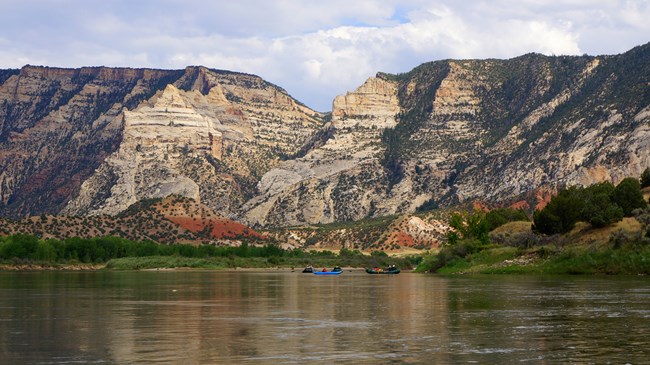 The Northern Colorado Plateau Network monitors air quality, big rivers, climate, invasive exotic plants, land surface phenology, landbirds, landscape dynamics, uplands, and water quality at Dinosaur National Monument. The results of that monitoring provide park managers with scientific information for decisionmaking.
Dinosaur National Monument was established by Presidential Proclamation on October 4, 1915, to preserve the outstanding fossil resources at the dinosaur quarry north of Jensen, Utah. The park includes dinosaur fossils of international renown, as well as canyons of the lower Yampa River and upper Green River. The Yampa River is the only large tributary in the Colorado River system that remains unregulated by a major mainstream impoundment.
Elevations range from under 1,448 meters (4,750 feet) near the Quarry to over 2,743 meters (9,000 feet) at Zenobia Peak. Annual precipitation ranges from under 280 millimeters (11 inches) at low elevations to near 508 millimeters (20 inches) at highest elevations. Biotic diversity is high due to the monument's topography, diverse geologic substrates, location at the convergence of five physiographic provinces, and the presence of large desert rivers. Plant communities include montane coniferous forest, pinyon-juniper woodland, mixed mountain shrub, sagebrush-grassland, cold desert shrubland, barrens, and low-elevation riparian woodland.
Livestock grazing, increasing recreational use, threats to endemic plants, adjacent land-use impacts, and exotic plant species invasion are the monument's main natural resource management concerns.
Inventories and Monitoring Reports
Last updated: October 31, 2020