Oral History Project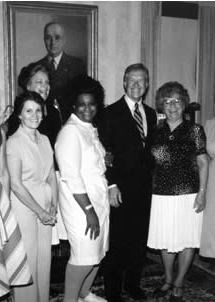 The oral history project at Harry S Truman NHS began in 1983. When the National Park Service began tours of the home in 1984, little was known about the Truman family's private life and activities in the community. Early oral history interviews focused on the personal information critical to properly interpret, furnish, and preserve the home in a manner that accurately reflected the occupation of the Truman family.
For more than 30 years the program has preserved important information about the Truman family's home life and community ties in Independence and Grandview, Missouri. One Hundred thirty taped interviews have been conducted, totaling over 200 hours. The completed interviews allow the park to document the stories of family, friends and neighbors associated with Harry Truman and his family during their residence at 219 North Delaware in Independence and on the Truman farm in Grandview. Oral history informants included neighbors, secret service agents, medical personnel, shopkeepers, relatives, friends, household staff and other Truman contemporaries. The broad range of people interviewed helps paint a more complete picture of the Truman family's life.
Click on the alphabetical links below to browse the oral histories. Park staff and volunteers are working on finalizing recent interviews and these oral histories will be posted as they become available.
ORAL HISTORIES
A B C D E F G H I J K L M N O P Q
To search the oral histories by the informants' relationship with the Truman family, visit Oral History Informants by Association.
Last updated: April 7, 2022