Oral Histories: M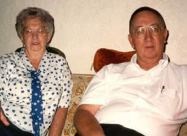 Mann, Lola and Donald Gore
Interviewed July 7, 1991
Lola Mann and Donald Gore through their interview represent the majority of the Independence population. Mann and Gore, though not friends of the Trumans, provide examples of the average Independence resident's respect for the Trumans' attempts to be "regular" citizens after the presidency.
Interview (pdf - 121KB)


Mapes, Roseanne
Interviewed July 17, 2003
Roseanne Mapes, longtime area resident and daughter of former Watson Methodist Church minister discusses the community and the Watson Methodist Church. The church once stood on the corner of North Delaware and Maple Streets near the Truman Home.
Interview Not Transcribed

Martino, John
Interviewed July 31, 1991
John Martino came to work at the Truman Library in 1958 as a custodian. When he retired in 1972, he was an assistant superintendent. Martino accumulated a treasure trove of stories and memorabilia from his association with Harry S Truman as his secondary driver and maintenance employee at the Library.
Interview (pdf - 188KB)


McCullough, David
Interviewed June 15, 1989
David McCullough, author and historian, spoke to National Park Service employees about his research conducted in preparation for his book about Harry S Truman. He addresses popular questions about Truman, Truman's childhood and developmental process; and Truman family relationships.
Interview Not Transcribed

Melton, Rev. Thomas G.
Interviewed August 18, 1989
The Reverend Thomas G. Melton (1919-1997) lived at 305 North Delaware, across from the Trumans since 1964. Melton recalls his first meeting with Harry S Truman, daily walks, and neighborly visits with both Trumans.

Miller, Doris
Interviewed December 10, 1985
Doris Miller was Bess Truman's beautician from 1953 until 1982. She discusses the development of her beauty shop and her husband's barber shop, where Harry Truman had his weekly trims.
Interview (pdf - 911KB)

Muskie, Edmund S.
Interviewed March 18, 1992
Senator Edmund S. Muskie discusses his visit with Harry S Truman in 1968, accompanied by his wife, while campaigning with Hubert Humphrey as the Democratic nominee for vice president.
Interview (pdf - 7.45MB)
Last updated: March 18, 2019