Oral Histories: E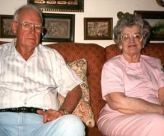 Earnshaw, Stella E. and George B.
Interviewed July 22, 1991
Stella Earnshaw worked for Dr. Charles Allen and as a nurse occasionally aided Bess W. and Margaret Truman. Mrs. Earnshaw, a native of Platte City, Missouri, provides information about the Gates and Wells families located in that area.
Interview (pdf - 137KB)


Estes, Leola
Interviewed November 8, 1996 and February 3, 1997
Leola Estes began her twenty-four year career working for the Truman family in 1942, initially washing and ironing the household laundry and eventually cooking and serving meals.
Interviews Not Transcribed
Last updated: March 18, 2019