Oral Histories: W

Wade, Helen
Interviewed July 9, 2003
Helen Wade is a life-long area resident and distant relative of Bess Truman. She discusses what life was like growing up in Independence, Missouri.
Interview Not Transcribed

Wagner, William R.
Interviewed August 21, 1991
William R. Wagner served was a Naval Corpsman who assisted Harry S Truman from 1970 until Truman's death in 1972. Wagner discusses the daily routine, those involved, and the use of the house during his tour of duty in the Truman home in Independence, Missouri.
Interview (pdf - 316KB)

Wallace, Christine and David F.
Interviewed August 25-26, 1991
Christine Wallace, sister-in-law of Bess W. Truman, and her son David F. Wallace, Jr., reveal in detail the inner workings of the extended Wallace family during the 1930s to early 1940s.
Interview 8-25-91 (pdf - 461KB)
Interview 8-26-91 (pdf - 391KB)
Interview 8-26-91 (pdf - 639KB)

Wallace, May
Interviewed June 14, 1983 and December 20, 1985
May Wallace, wife of George Wallace and sister-in-law of Harry and Bess Truman, discusses the Wallace and Truman family members. Wallace discusses the Gates family's move to Independence, Madge Gates Wallace's relationship with her family, domestic help and cooking, and Christmas traditions.

Warr, Dorsy Lou
Interviewed July 17 and 30, 1991
Dorsy Lou (Compton) Warr grew up down the street from the Trumans. Her father Louis "Polly" Compton, a prominent Independence businessman, was a member of Harry S Truman's poker circle and often provided the Trumans with pop and ice cream. Warr relates many stories about growing up in the same neighborhood as a president.
Interview (pdf - 299KB)


Westwood, Mary Kay
Interviewed August 28, 1989
Mary Kay Westwood was married to Mike Westwood, Harry Truman's personal security attendant. Mrs. Westwood discusses her close relationship with the Trumans during their retirement years.
Interview Not Transcribed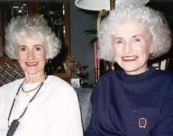 Wilson, Helen Wells and Bess Wells Paris
Interviewed August 21, 1991
As the daughters of William Gates Wells, first cousin of Bess W. Truman, Helen Wells Wilson and Bess Wells Paris grew up within the extended Gates family that stretched from Independence to Platte City and Kansas City, Missouri. The Wells sisters discuss their branch of the family tree in Platte City, Missouri, including their grandmother Maud Louise Gates Wells.
Interview (pdf - 2.37MB)

Wilson, Palma
Interviewed May 15, 1990
Palma Wilson discusses her years of employment at Harry S Truman NHS first as lead park ranger (1984-1988) and chief ranger (1988-1990) and the development of the interpretive program.
Interview (pdf - 156KB)
Last updated: March 18, 2019