Eliza Eichelberger Ridgely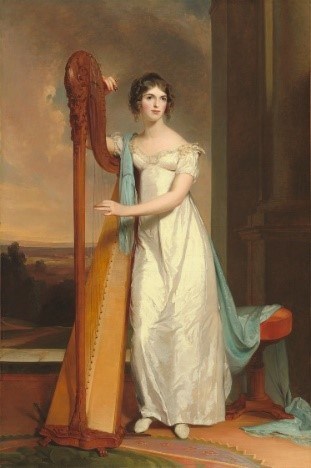 Eliza Eichelberger Ridgely (1803-1867) is one of the most recognizable of the Ridgely women, largely as the result of her portrait commissioned by her father and painted by Thomas Sully, "Lady with a Harp," which is now in the collection of the National Gallery of Art. Eliza was a well educated and accomplished woman who was also a renowned horticulturist and talented musician. Among her contributions to Hampton were the redesign expansion of the formal gardens, building of greenhouses and other garden structures, introduction of numerous exotic tree species, and installation of the marble urns around the mansion and grounds. According to family lore, Eliza planted Hampton's giant Cedar of Lebanon in the 1830s after bringing it back from Europe as a seedling in a shoebox.

In addition to management of the gardens and grounds, she also played an active role in running the domestic aspects of the estate, including the semi-annual provision of clothing to enslaved individuals and families. Throughout her life, many people wrote of her beauty, elegance, and sense of fashion, including the Marquis de Lafayette, whom she met and captivated during his 1824-25 American tour and with whom she remained in contact for the rest of his life.
Last updated: June 24, 2020