Winter in Grand Teton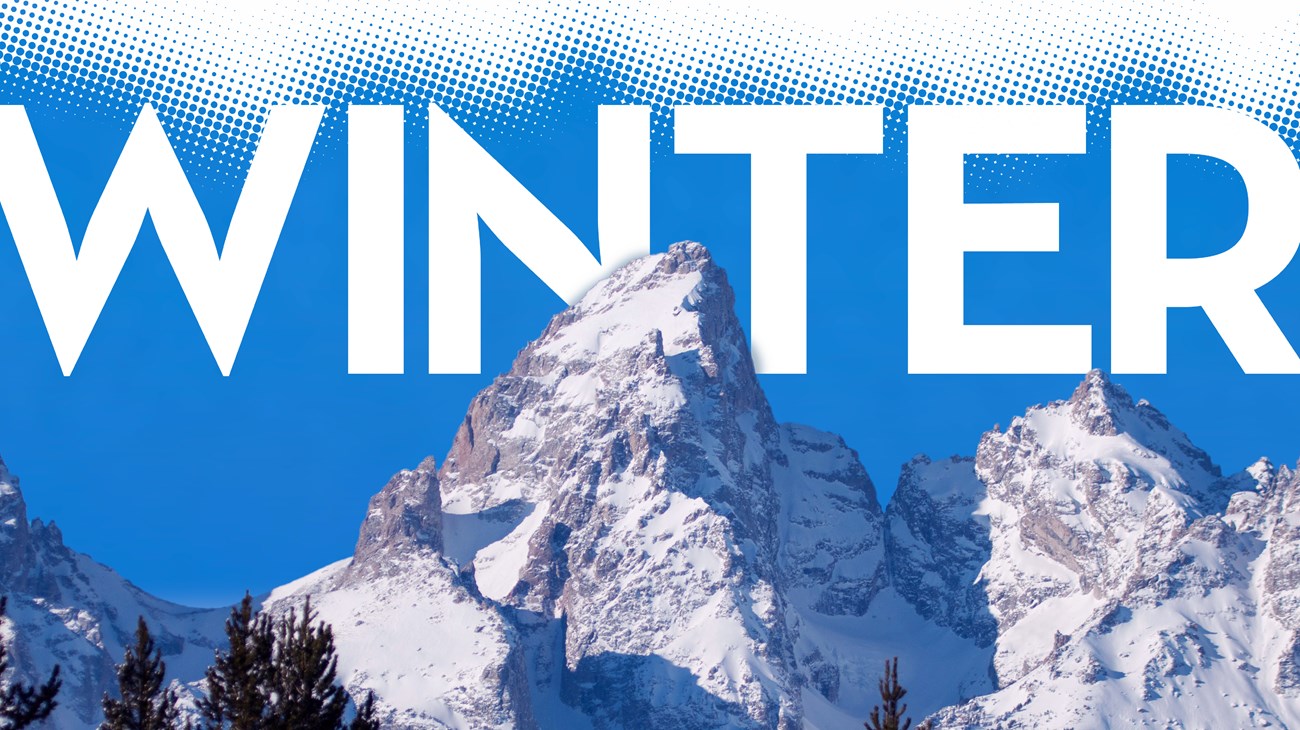 ---
Winter is a wonderful time to experience Grand Teton National Park. As the snow drapes a wintry blanket across the Teton Range, a peace settles over the landscape offering a sharp contrast to the busy summer season. Winter recreation activities abound, as the park becomes a popular destination for cross-country skiers, snowshoers, and photographers who wish to capture the beauty of a Teton winterscape. If you are planning a visit during the winter season, make sure you check current weather forecasts and road conditions to ensure a safe and enjoyable trip.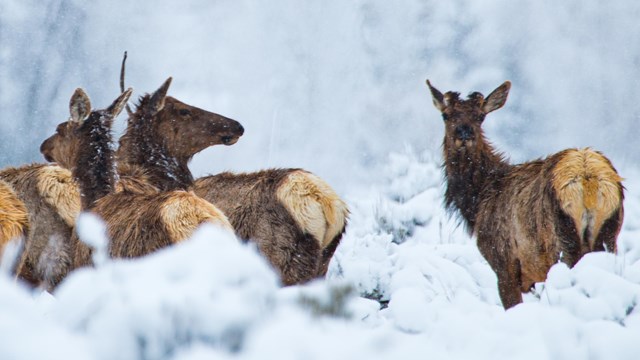 Wildlife Closures
Know where to go and protect wildlife.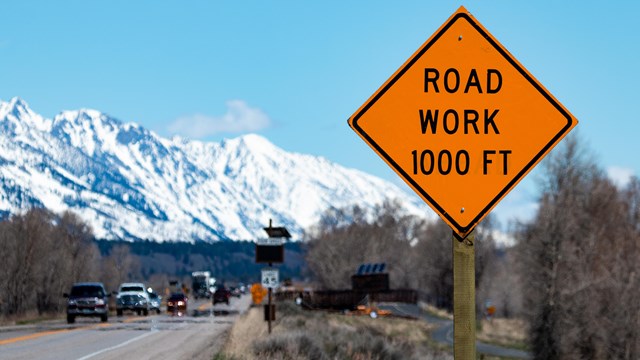 Park Roads and Construction
Check the status and seasonal closing dates of park roads.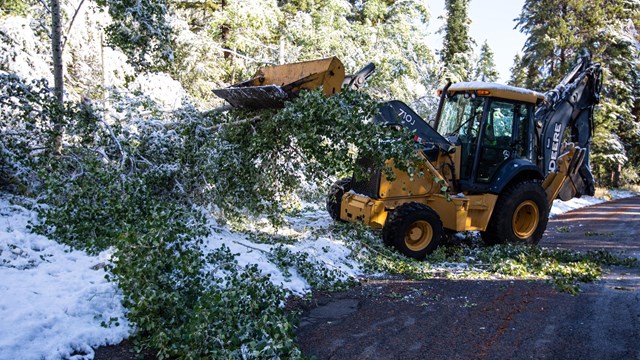 Current Conditions and Park Alerts
Know what to expect in the park today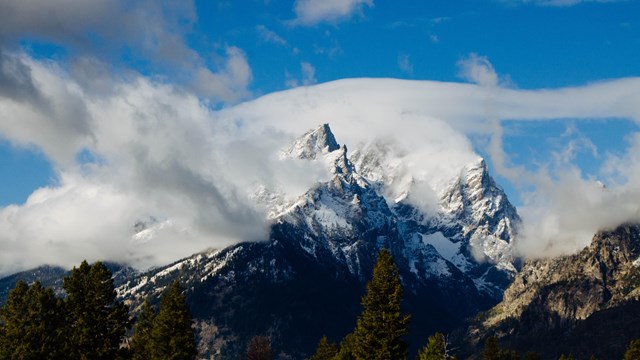 Weather
Learn what weather to expect when you visit Grand Teton.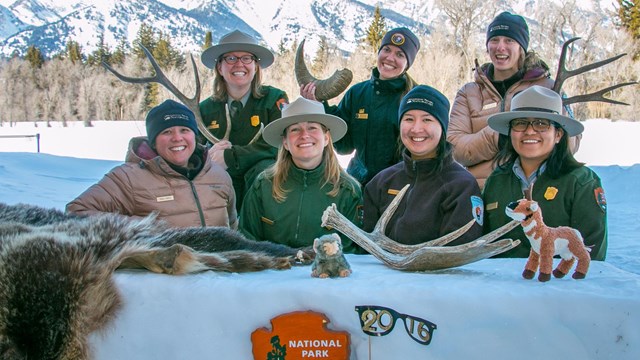 Snow Desk
Tune in during the depths of winter to our "show from the snow." Snowdesk is Grand Teton's flagship distance learning program!
Winter Activities
Snowshoe with a Ranger
Are you curious about winter ecology or snow science? Would you like to experience the park in winter? A snowshoe hike with a interpretive ranger is the perfect introduction to winter in Grand Teton National Park and snowshoeing. Snowshoe with a Ranger is offered Wednesdays and Fridays, January 3 - March 15, 2024. Beginning December 1, call 307-739-3399 Monday-Friday to make a reservation.
Cross-country Skiing & Snowshoeing
Cross-country skiing and snowshoeing are two of the best ways to experience the exhilaration of winter travel. Winter is an excellent time to see wildlife and/or signs of wildlife in the snow. From November 1 to April 30, the Teton Park Road from the Taggart Lake Trailhead to Signal Mountain Lodge is open for non-motorized use only. You can ski or snowshoe on this road, which is intermittently groomed to provide a packed surface for snowshoeing and crosscountry touring. Other places to enjoy cross-country skiing and snowshoeing include Colter Bay, Antelope Flats Road, Taggart Lake and Flagg Ranch. If you plan to ski or snowshoe the Moose-Wilson Road, park at the Granite Canyon Trailhead or at the junction to the Death Canyon Road.
Proper preparation and planning ensures a great winter experience in Grand Teton National Park. Visit our cross-country skiing and snowshoeing page.
Snowmobiling
Snowmobiling is a fun way to travel through snowy terrain. Snowmobiling is limited in John D. Rockefeller Jr., Memorial Parkway and Grand Teton National Park. Please visit our snowmobiling page to learn about what you need and where to go.

Visit the Yellowstone National Park Web site for information regarding snowmobile and snowcoach tours and for non-commercial snowmobile access.

Guided Tours
The following businesses are licensed by the National Park Service to provide cross-country ski or snowshoe tours and services in the park during the winter season:
Eco Tour Adventures: http://www.jhecotouradventures.com/
The Hole Hiking Experience: http://www.holehike.com/
Teton Backcountry Guides: http://www.skithetetons.com

Backcountry Skiing, Ski Mountaineering, and Avalanche Courses:
Exum Mountain Guides: http://exumguides.com/
Jackson Hole Mountain Guides: http://jhmg.com/
Teton Backcountry Guides: http://www.skithetetons.com

Safety in the Backcountry
Skiers and snowboarders are reminded that your safety is your responsibility. You must rely on your own good judgment, adequate preparation and constant awareness. Backcountry users should be in good physical condition and stick to routes that are within their ability and comfort levels. Hypothermia and frostbite can set in quickly, and are difficult to care for in the backcountry. Take preventative measures to avoid the dangers of cold weather; look for signs of hypothermia and frostbite on members of your group. Traveling alone can be especially dangerous; always give friends or family a detailed itinerary and stick to your plan. Permits are required for all overnight backcountry trips.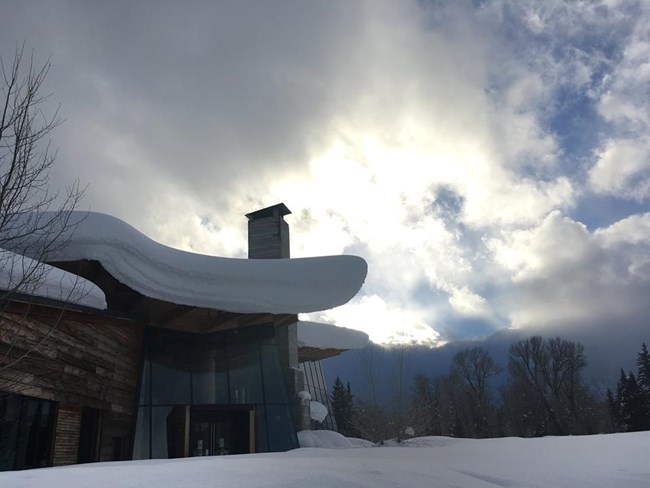 Winter Visitor Centers
Park visitor centers and ranger stations close during the winter season and re-open in March-May. Please see the facilities page for more information on seasons of operation.
Open year-round. Located in Jackson, Wyoming.
Closed during the winter. Open May through October. Located in Moose, WY.
Talk to a Ranger
For trip planning and information call 307-739-3399, 10 am - 4 pm. Monday - Friday.
Winter Facilities
Restrooms or portable toilets are available at Taggart Lake Trailhead, Signal Mountain Lodge, Colter Bay Visitor Center, and Headwaters Lodge at Flagg Ranch.
Gas, pay at the pump, is available at Signal Mountain, Jackson Lake Lodge, and Headwaters Lodge at Flagg Ranch. Headwaters Lodge at Flagg Ranch convience store is open December to Feburary.
All other concession facilities including lodging, campgrounds, restaurants, and stores are closed until the spring.
For lodging facilities in the Jackson Hole area visit the Jackson Hole Chamber of Commerce at: http://www.jacksonholechamber.com/
Regulations
Harassing wildlife is prohibited. Winter conditions stress all animals. Approaching too closely increases stress and may reduce their chance of surviving the harsh winter weather. Retrace your steps or detour to avoid disturbing wildlife. Check the Wildlife Closure page.
Pets are restricted to plowed roadways and turnouts. Pets are also allowed on the unplowed portion of the Teton Park Road and the Moose-Wilson Road. Pets must be leashed at all times (6' max).
Please use the Mutt Mitts provided at the trailheads to properly dispose of your pet's waste.
Overnight backcountry campers must obtain a free camping permit. Permits are available over the phone by calling park dispatch at 307-739-3301.
Areas Closed to Protect Wildlife
Muliple seasonal and temporary wildlife closures are necessary for protection of wintering wildlife including moose, elk, bighorn sheep and waterfowl during critical wintering or nesting periods. For the latest closures and maps check the Wildlife Closure page.
Avalanche & Backcountry Information
If you are planning to travel in the backcountry during the winter, be sure to check the local avalanche forecast. Avoid known avalanche paths. All skiers and climbers travelling in avalanche terrain should be equipped with, and know how to use, an avalanche beacon, probe pole and shovel. For current conditions call 307-733-2664 for the U.S. Forest Service avalanche report or go to: http://www.jhavalanche.org/index.php
Hypothermia is caused by exposure to cold and is aggravated by wind, exhaustion and wet clothing. Warning signs include: uncontrollable shivering, incoherent speech, lethargy and exhaustion. Remove the victim from the elements as soon as possible. If in doubt, seek immediate medical attention.
For weather information, links to weather forecasts and avalanche reports as well as average temperatures and precipitation, visit our weather page.

Last updated: October 11, 2023