Non-Commercially Guided Snowmobile Access Program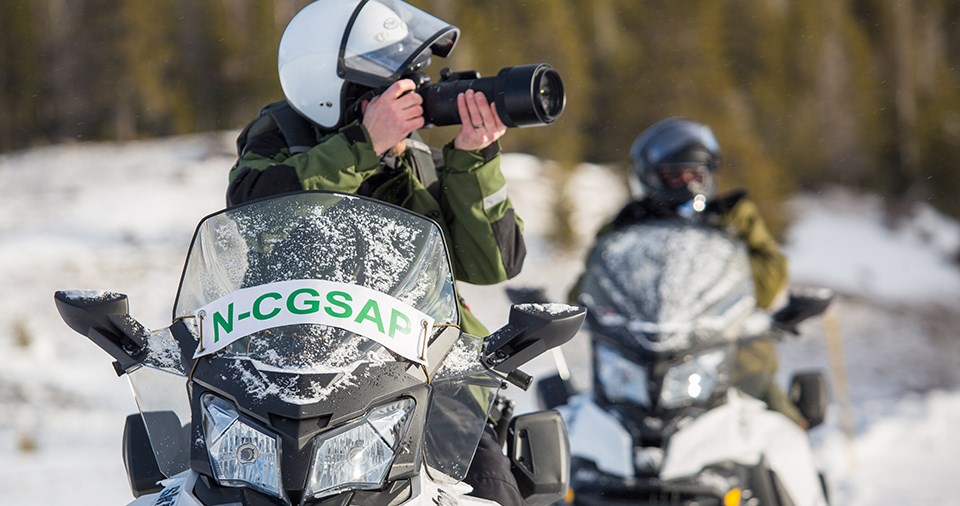 The Non-commercially Guided Snowmobile Access Program permits people to snowmobile in Yellowstone without the presence of a commercial guide. Up to four non-commercially guided groups are allowed to enter the park daily: one at each oversnow entrance.
Who Can Apply
Anyone who is at least 18 years of age can apply to be a non-commercial snowmobile guide.
How to Apply
Permits are awarded through a lottery system hosted by Recreation.gov (877-444-6777). Permits cost $40/day plus a $6 application fee. Lottery applications are accepted August 1 to 31. Permits are awarded in mid-September.
Unclaimed or canceled permits are made available on a first-come, first-served basis beginning October 1. There is no waiting list. Cancellations may occur throughout the winter season, so check the website often for openings.
You'll have the opportunity to provide the names of friends and family accompanying you when you apply or when you arrive at the entrance on the day of your trip.
Restrictions & Requirements
Non-commercial guides are responsible for ensuring that everyone in their group complies with park regulations. Non-commercial guides should be familiar with snowmobile safety, general first aid, snowmobile repair, the park road system, as well as park regulations. In addition:
Non-commercial guides may not charge a fee; these trips are for friends and family groups only.
Maximum group size is five snowmobiles per permit.
All snowmobiles must be registered and certified as meeting NPS requirements for New Best Available Technology (BAT). No side-by-side machines with tracks are allowed. BAT snowmobiles can be rented from local businesses.
All snowmobile operators must:

be at least 16 years or older by the first day of the trip;
have a valid driver's license;

Non-commercial guides may lead no more than two trips per winter season.
To lead an overnight trip (maximum of three days and two nights), non-commercial guides must secure a multi-day permit in the lottery.
Make sure to read more about the logistics & regulations involved in planning a safe, fun trip.
Cancellation Policy
To cancel a reservation, visit Recreation.gov or call 877-444-6777. Trips that are canceled at least one week before their start date will receive a partial refund (the $6 application fee is nonrefundable). Permits will not be rescheduled or refunded in the event of poor weather or road closures.
Questions?
For questions about this program, contact the Non-commercially Guided Snowmobile Access Program coordinator at 307-344-2165 or by email.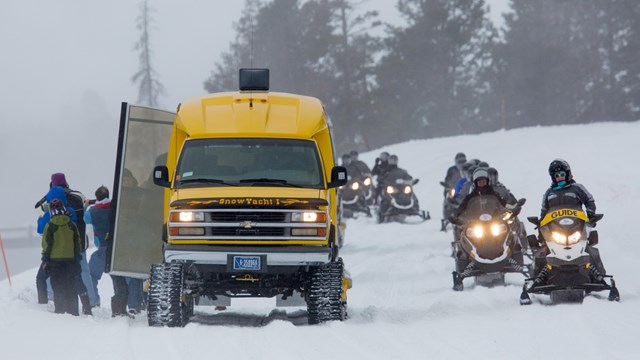 Ride a Snowmobile or Snowcoach
Take a guided tour of wintry Yellowstone.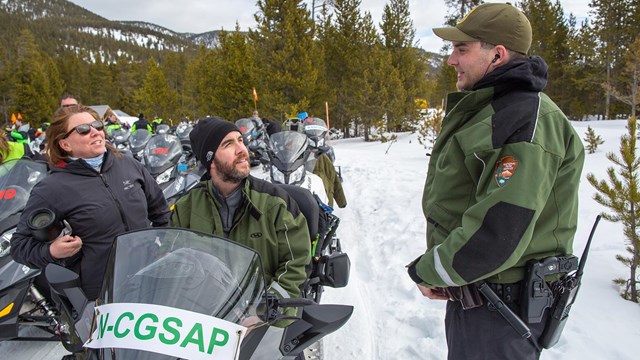 Snowmobile Access Program Logistics
Review the logistics and regulations for the Non-commercially Guided Snowmobile Access Program.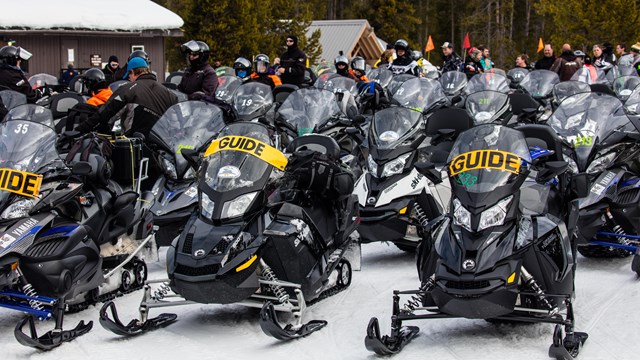 BAT Snowmobiles
Review the list of snowmobiles that are allowed in the park.
Last updated: December 23, 2022