Rockefeller Parkway and Flagg Ranch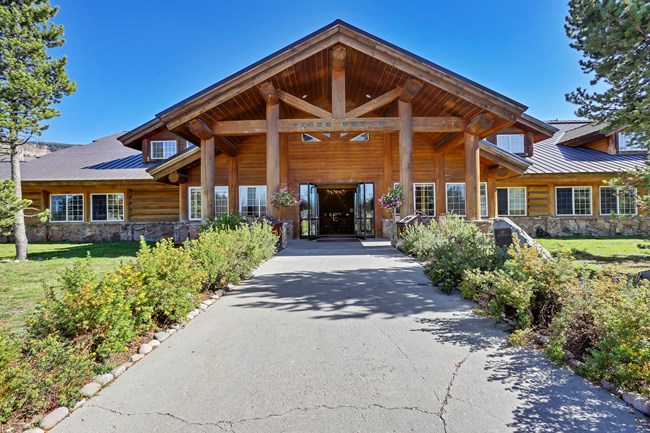 Explore the Rockefeller Parkway and Flagg Ranch
Located at the heart of the Greater Yellowstone Ecosystem, the John D. Rockefeller, Jr. Memorial Parkway connects Grand Teton and Yellowstone national parks. The late conservationist and philanthropist John D. Rockefeller, Jr. made significant contributions to several national parks including Grand Teton, Acadia, Great Smoky Mountains, and Virgin Islands.
In 1972 Congress dedicated a 24,000-acre parcel of land as John D. Rockefeller, Jr. Memorial Parkway to recognize his generosity and foresight. Congress also named the highway from the south boundary of Grand Teton to West Thumb in Yellowstone in honor of Rockefeller.
The parkway provides a natural link between the two national parks and contains features characteristic of both areas. In the parkway, the Teton Range ramps down a gentle slope at its northern end, while rocks born of volcanic flows from Yellowstone line the Snake River and form outcrops scattered atop hills and ridges.
Flagg Ranch is situated two miles south of Yellowstone and six miles north of Grand Teton in the John D. Rockefeller, Jr. Memorial Parkway. Flagg Ranch sits near the banks of the northern section of the Snake River.
A variety of activities and services can be found at Flagg Ranch. Stay the night at the lodge or campground, grab a meal, fish the river, or go for a hike.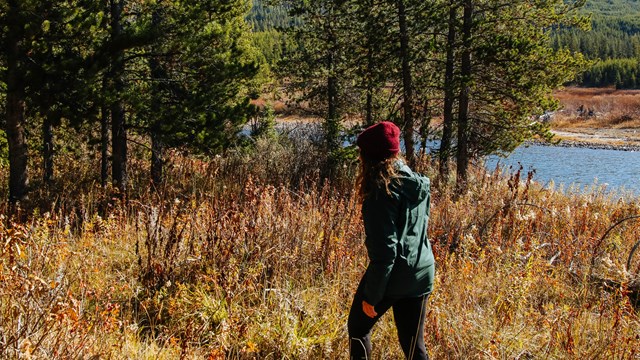 Hike Flagg Canyon
Walk along the Snake River on an easy hike through Flagg Canyon.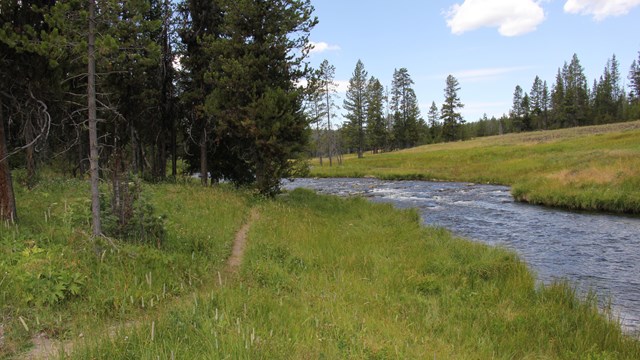 Hike Polecat Creek
Take an easy hike through wetlands and along Polecat Creek.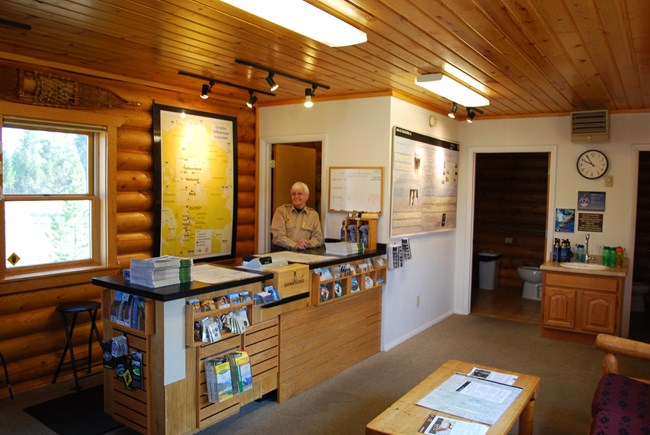 Stop by the Information Station
The Flagg Ranch Information Station is the first stop for visitors traveling south from Yellowstone. Stop by to ask questions, receive maps, and plan your trip in Grand Teton National Park.
During the peak season, park rangers and volunteers are available in this small wooden cabin. Facilities include a small information desk, exhibits depicting the Rockefeller legacy, and restrooms.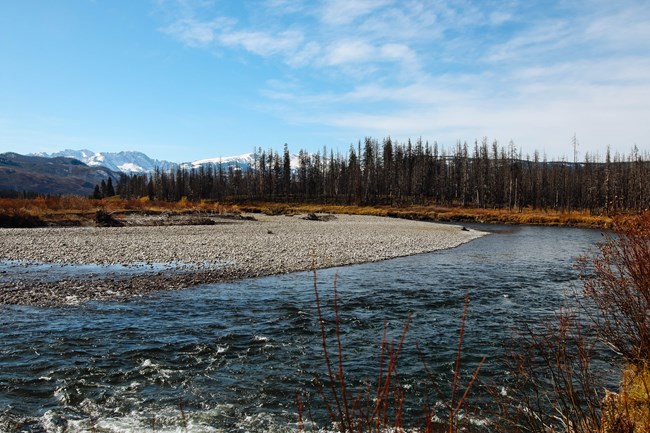 Drive Grassy Lake Road
Grassy Lake Road
connects Flagg Ranch to Ashton, Idaho. The road parallels the Snake River for the first couple of miles, and heads into adjoining US Forest Service Land. Grassy Lake is accessible about 11 miles from Flagg Ranch.
Grassy Lake Road is a 49 mile road, with 36 miles being gravel, and high clearance vehicles are recommended.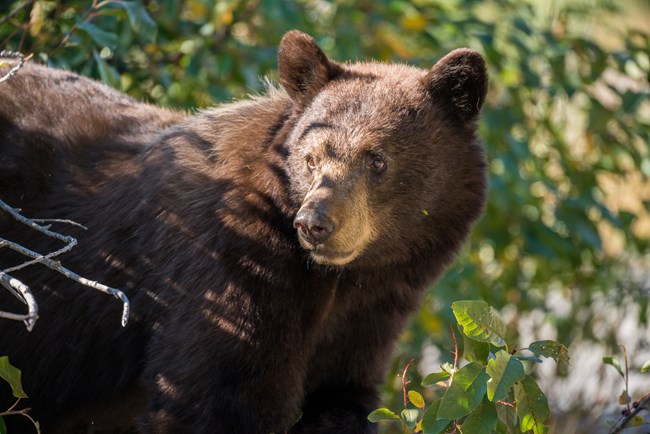 Bear and Wildlife Safety
Do you know what to do when encountering a wild animal? Flagg Ranch is home to black and grizzly bears, moose, deer, and other large animals. Bears are often seen on trails and in the developed areas. Being prepared for an animal encounter can help ensure the safety of you and the wildlife.
Learn more about how to
stay safe in bear country
.
Safety tip:
never approach a wild animal. Always maintain a distance of at least 100yds/91m from bears and 25yds/23m from other wildlife.
Stay Here
Stay at Headwaters Lodge or camp in the Headwaters Campground.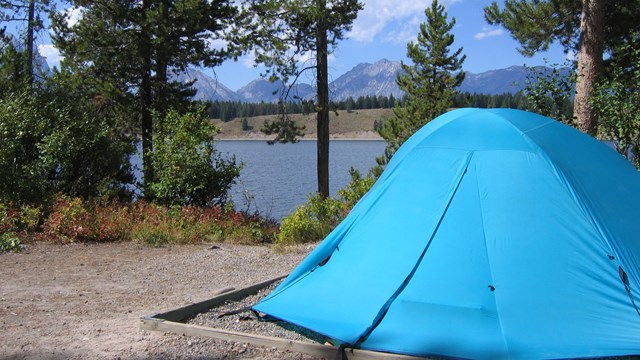 Find A Campground
Find a place to camp in Grand Teton.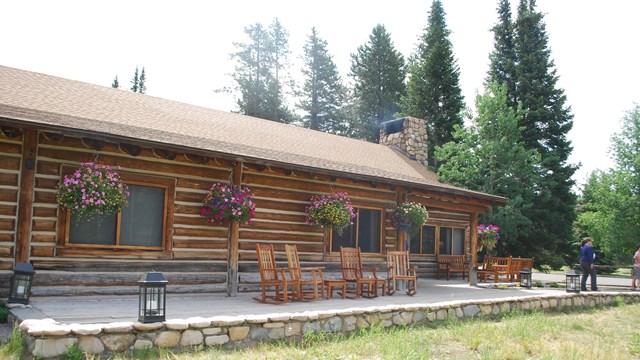 Lodging
Explore lodging options in Grand Teton.
Flagg Ranch Services
Headwaters: lodging, campground, restaurant, gift shop
Information Station: information, trip planning, maps
Gas Station: gas, diesel, convenience store
Headwaters Corral: trail rides
Grassy Lake Road: 14 designated campsites in 8 areas along the road, free, first-come, first-served after June 1. These sites are primitive with no water but do include shared toilets, bear boxes, and trash facilities. Camp only in designated sites, proper food storage required to protect wildlife, park only in parking areas, no discharging of firearms, and follow leave no trace guidelines.
Additional Flagg Ranch Information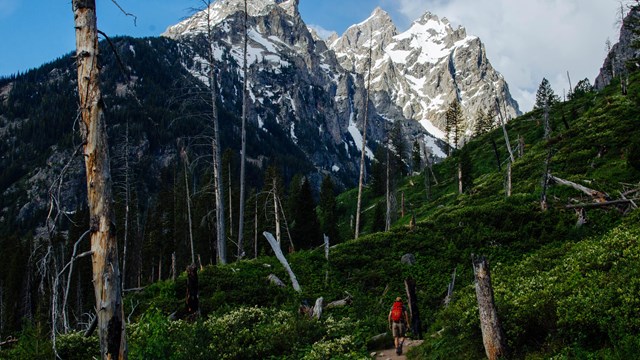 Hike in Grand Teton
Explore hikes throughout Grand Teton National Park.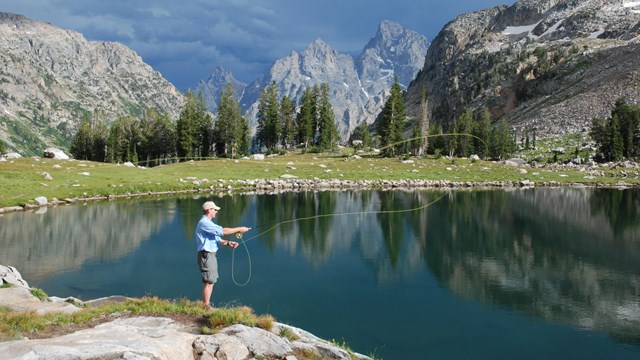 Fishing
Fish for trout within valley and alpine lakes.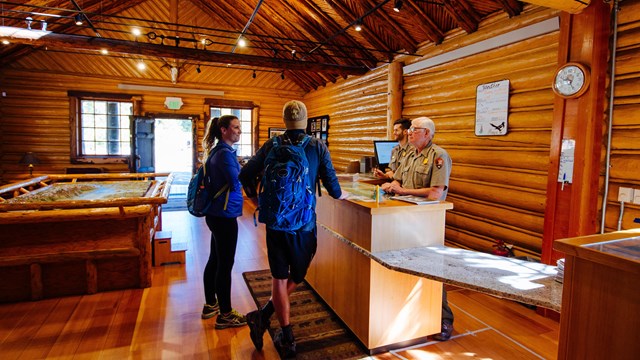 Talk to a Park Ranger
Find a visitor center in Grand Teton.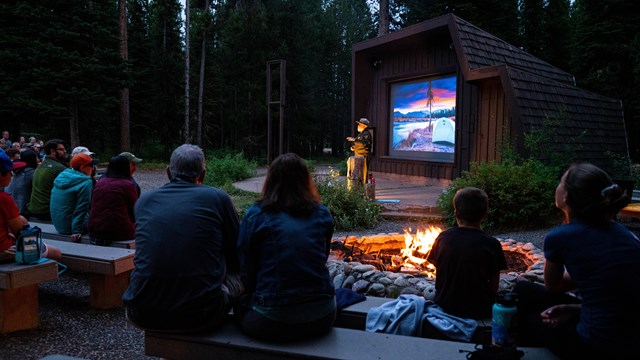 Attend a Ranger Led Program
Learn more about Grand Teton by attending a ranger led program.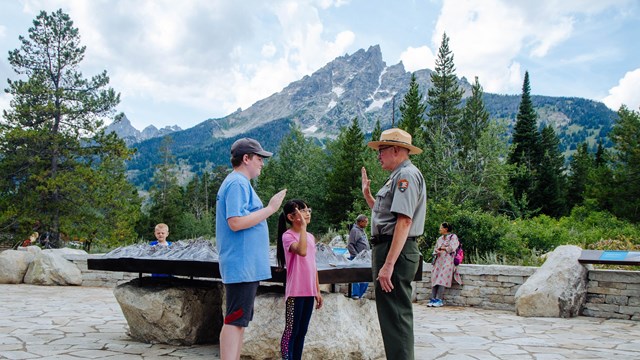 Become a Junior Ranger
Experience Grand Teton and become a Junior Ranger. Open to all ages.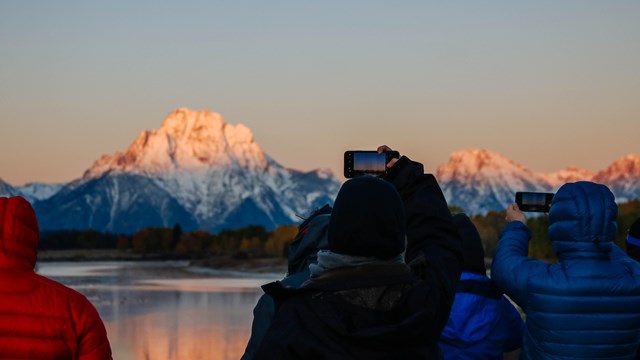 Plan Your Visit
Learn more about Grand Teton and plan your trip here.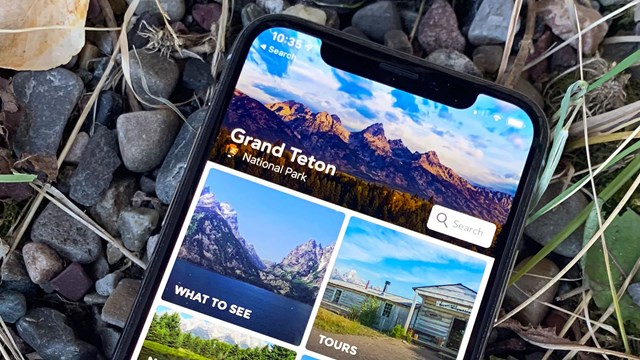 We have an app for that
Download our new app before you get here! Explore Grand Teton and discover places to visit, find a bite to eat, and a place to stay.
Last updated: August 23, 2023