Colter Bay Visitor Center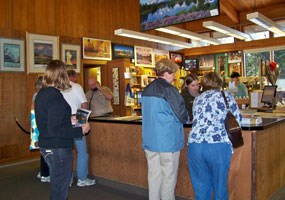 The Colter Bay Visitor Center offers trip planning, weather, permits and camping information.
Rangers lead a variety of programs throughout the day including a hike to Swan Lake, a lakeshore stroll, a tipi demonstration, Indian arts and culture, wildlife watches, short presentations on park highlights, and a variety of evening programs. Please refer to the ranger-led program page for current schedules.

Become a Junior Ranger of any age! Complete a worksheet and attend one ranger-led program.

Enjoy 35 never before see Indian artifacts from the David T. Vernon collection. Visiting Indian artists from around the country demonstrate and sell their artwork in the lower level of the museum during the summer.

Visit the permits desk for backpacking information and permits, or to purchase a boat permit.
Last updated: August 28, 2019