Laurel Falls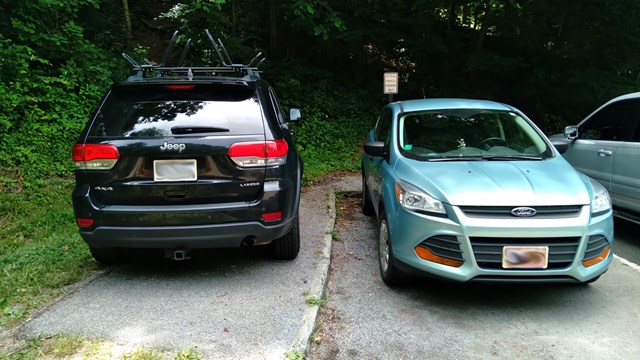 Laurel Falls Parking
Parking in undesignated spots impacts adjacent habitats, damages road edges, and causes erosion.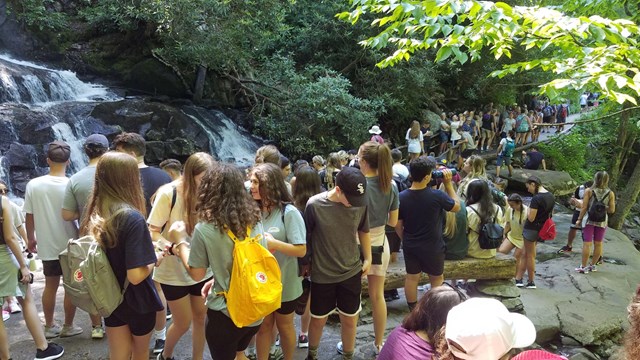 Crowding at Laurel Falls
How is the Smokies working to provide a high-quality experience in America's busiest national park?
Laurel Falls Trail leads to an 80-foot falls, named after the mountain laurel shrubs that bloom along the trail and near the falls in May. The waterfall has an upper and lower section, divided by a walkway crossing the stream at the base of the upper falls. It is a popular destination in the park, but parking at the trailhead is limited. Expect higher crowds on weekends year-round and on weekdays during summer.
Access Trail: Laurel Falls Trail
Trailhead: From Sugarlands Visitor Center, turn toward Cades Cove on Little River Road and drive 3.5 miles to the trailhead where there are parking areas on both sides of the road.
Trail Notes:
The roundtrip distance to the waterfall is 2.6 miles and the hike is considered moderate in difficulty.

It takes about 2 hours to hike to the waterfall and back.
Carry drinking water with you.

Pets and bicycles are prohibited on the trail. Learn more about pet restrictions in the park.

The trail is partly paved but becomes rough and uneven. It has short, steep sections that can be slippery in wet weather.
Safety Notes:
Portions of the trail have steep drop-offs. Closely supervise children at all times.

Stay away from rocks around the waterfall; climbing can be dangerous due to slippery conditions.

Bear activity is common in the area. Remember to keep a safe distance from bears and never feed wildlife.
Last updated: December 9, 2023