Hike to Alum Cave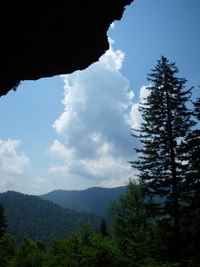 The trail begins by crossing Walker Camp Prong and Alum Cave Creek on log bridges, leading hikers through an old-growth hardwood forest. Hiking through the narrow tunnel of Arch Rock is a highlight of the hike. As the trail climbs up Peregrine Peak, it approaches a heath bald full of mountain laurel and rhododendron, finally reaching a rocky outcrop known as Inspiration Point after 2 miles. This is a good place to view the rugged valley while surrounded by mountains.
The Alum Cave Bluffs are 2.3 miles from the trailhead. It's hard to believe how dry the ground is underneath the bluffs when the air and ground outside of it are wet. Many visitors turn around at this point, but continuing on the trail to the summit of Mount Le Conte will reward you with sweeping vistas seen from exposed cliffs that the trail follows to the top.
Details about taking this hike:
Trail: Alum Cave Trail
Driving to the Trailhead: Drive 8.6 miles on Newfound Gap Road from Sugarlands Visitor Center or 20 miles from Oconaluftee Visitor Center. There is a sign and two large parking areas marking the trailhead.
Hiking Distance: 2.5 miles one way to Alum Cave Bluffs. Alum Cave Bluffs Trail continues past Alum Cave Bluffs for a total of 5.0 miles to just below the summit of Mt. Le Conte.
Trail Conditions: Elevation change of 1,200 feet; the trail is steep and follows the edge of the ridge in sections
NOTE: Pets are not allowed on this trail. The only two trails in the park that allow pets are the Gatlinburg Trail near the Sugarlands Visitor Center and the Oconaluftee River Trail near the Oconaluftee Visitor Center. Learn more about pet restrictions in the park.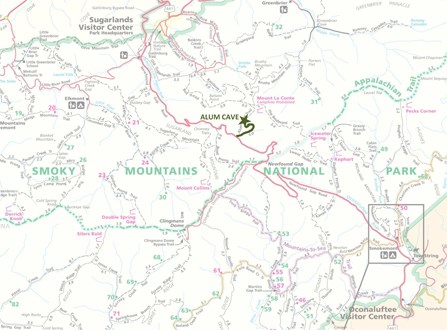 Last updated: April 5, 2022