Hiking Tips - Hike Smart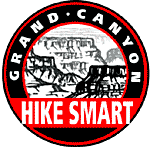 HIKE SMART - For a safe and enjoyable hike prepare for your hike before you arrive:
THE DIFFERENCE BETWEEN A GREAT HIKE OR A TRIP TO THE HOSPITAL IS UP TO YOU!
Your descent marks your entry into a world in which planning and preparation, self-reliance, and good choices are crucial. Don't hike alone. Know what your destination will be and how to get there. Know where water is available. Get the weather forecast. Don't overestimate your capabilities. Hike intelligently. You are responsible for your own safety as well as that of everyone in your party. Stay on the trail and never shortcut switchbacks.
Average Temperatures in the Inner Canyon
| | | | | | | | | | | | | |
| --- | --- | --- | --- | --- | --- | --- | --- | --- | --- | --- | --- | --- |
| | JAN | FEB | MAR | APR | MAY | JUN | JUL | AUG | SEP | OCT | NOV | DEC |
| High (F) | 56 | 62 | 71 | 82 | 92 | 101 | 106 | 103 | 97 | 84 | 68 | 57 |
| Low (F) | 36 | 42 | 48 | 56 | 63 | 72 | 78 | 75 | 69 | 58 | 46 | 37 |
| High (C) | 13 | 17 | 22 | 28 | 33 | 38 | 41 | 39 | 36 | 29 | 20 | 14 |
| Low (C) | 2 | 6 | 9 | 13 | 17 | 22 | 26 | 24 | 21 | 14 | 8 | 2 |

Average temperatures, weather information, and road conditions can be found on the Weather Conditions page.
WARNING! Summer thunderstorms bring lightning. Learn more at the Lightning Danger webpage.
KNOW YOUR ABILITIES; CHOOSE AN APPROPRIATE HIKE.
You will be hiking at high elevation in hot, dry desert conditions with a steep climb out at the end of the day. Everyone who hikes in the canyon for the first time reports that it was more difficult than they expected. Be conservative in planning your hike!
If you have asthma, diabetes, a heart condition, knee or back problems, or any other health or medical issue, limit both your exertion and your exposure to the heat. The altitude, strenuous climbing, dehydration, and intense inner canyon heat will combine to make any medical problem worse. Stay within your training, physical limitations, and abilities.

THE LESS YOU CARRY, THE MORE ENJOYABLE THE HIKE.
Travel as light as possible. The heaviest items in your pack should be food and water. Use hiking sticks to take stress off your legs. Wear well-fitting and broken-in hiking boots. Bring a small lightweight flashlight and a change of batteries and bulb. Wear sunscreen, sunglasses, and a hat. Bring a map, compass, signal mirror or whistle, first aid kit, and water purification tablets. Keep in mind that all trash (including biodegradable) needs to be carried out of the canyon.
Avoid Huffing and Puffing
IF YOU CAN TALK WHILE YOU ARE WALKING, YOU ARE WALKING THE PERFECT SPEED.
When you huff and puff your body is not getting enough oxygen. Walking at a pace that allows you to be able to walk and talk means that your legs and your body are getting the oxygen needed to function efficiently.
When your body generates fewer metabolic waste products, you enjoy your hike more and you feel better at the end. At times it may seem like you are walking too slow, but at an aerobic pace (sometimes even baby-sized steps when the trail is steep) your energy reserves will last longer. You will also feel much better that night and the next day.
TAKE A TEN MINUTE BREAK AT LEAST ONCE EVERY HOUR.
A break of ten minutes helps remove the metabolic waste products that build up in your legs while hiking. Take a break at least every hour. Sit down and prop your legs up. Eat some food, drink some fluids, and take this time to enjoy and appreciate the view. These efficient breaks can recharge your batteries. In the long run, breaks will not slow you down.
EAT OFTEN AND DON'T FORCE FLUIDS.
Eat more than you normally do, ensuring you eat before, during, and after your hike. No matter what the temperature, you need water and energy to keep going. Every hour hiking in the canyon can be likened to the physiological equivalent of shoveling wet sand. Plan accordingly when determining how much food and water you should consume during your hike.
Keeping yourself cool while hiking in the canyon takes a large amount of energy (food). Food is your body's primary source of fuel while hiking in the canyon. You need to eat about twice as much as you normally would to meet your energy needs while hiking in the Grand Canyon. Salty snacks and water or sports drink should be consumed on any hike lasting longer than 30 minutes.
Your best defense against illness and exhaustion is to eat a healthy breakfast, and eat regularly throughout your hike.
COMING BACK UP IS HARD!
Plan on taking twice as long to hike up as it took to hike down. Allow 1/3 of your time to descend and 2/3 of your time to ascend. As a courtesy, give uphill hikers the right of way. Bring a small, lightweight flashlight in case you end up hiking in the dark.
MULES HAVE THE RIGHT OF WAY.
To ensure safety for yourself, other trail users, and mule riders, when encountering mules on the trails:
Step off the trail on the uphill side away from the edge.
Follow the direction of the wrangler. Remain completely quiet and stand perfectly still.
Do not return to the trail until the last mule is 50 feet (15 meters) past your position.

Hike Smart Podcast 04 (04m:42s) Self Rescue Tips
In this podcast we're going to discuss some self-rescue tips and common problems encountered by hikers on the trail. One of the great things about Grand Canyon hikers is that they tend to look out for each other. Listen
---
Additional backcountry info can be found on the following webpages.
Last updated: September 26, 2017