Winter Hiking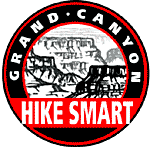 Every year, scores of unprepared hikers, lured by initially easy downhill hiking, experience severe illness, injury, or death from hiking in the canyon. Travel in Grand Canyon National Park's backcountry has inherent risks and involves unavoidable hazards. Your safety depends upon your judgment, your experience, and a realistic assessment of your abilities.
Read the Hiking Tips page and check the Backcountry Updates and Closures page for current information on trail conditions and situations affecting the backcountry.
A successful and safe winter hike depends on weather and routes, but realize that any hike can be affected by unforeseen natural occurrences. Routes and trails are susceptible to deterioration from rockslides. Weather, at any time of the year, can compromise an individual's ability to cope with the psychological challenges of backcountry travel. Always be sure you have adequate food, water, and equipment to deal with the unexpected.
If you have doubts as to your ability to hike safely in the Grand Canyon, do not attempt to do so! All visitors should be aware that efforts to assist them may be delayed and limited due to weather, rescuer safety, and incident urgency.

Do not rely on physical strength alone, hiking smart will take you much farther. Use this information to hike smart.
Winter Hiking Essentials
Food – especially salty foods. Eat twice as much as normal.
First Aid Kit – bandaids, ace wrap, antiseptic, moleskin, etc.
Map – while many trails are well-marked, maps are helpful tools.
Water – plain and some with electrolyte replacement.
Pack – to carry the essentials.
Flashlight/Spare Batteries – allows you to hike out at night.
Appropriate Footwear - waterproof boots, gaiters to keep snow and mud out of your boots.
Over-the-shoe traction devices - it will only take a short and unexpected stretch of ice to make you glad you have extra traction.
Hiking Poles – to help with footing on icy trails.
Whistle and/or Signal Mirror – for emergency use, know how to use your equipment.
Waterproof/Warm Clothing – parka, hat, gloves for the snow and rain, plus an extra set of dry clothing – in case you get wet.
The Hazardous H
WATCH OUT FOR THIS HEALTH HAZARD!
HYPOTHERMIA - A life-threatening emergency where the body cannot keep itself warm, due to exhaustion and exposure to cold, wet, windy weather.
Symptoms: uncontrolled shivering, poor muscle control, careless attitude, confusion, exhaustion (even after rest). Look for signs of the "umbles" - stumbling, mumbling, fumbling, grumbling.
Treatment: remove wet clothing and put on dry clothing, drink warm sugary liquids, warm victim by body contact with another person, protect from wind, rain, and cold. If re-warming is unsuccessful - seek help.
Avoid hypothermia by checking at the Visitor Center or the Backcountry Information Center for the latest weather and trail conditions, taking layered clothing for protection against cold and wet weather, eating frequently, replacing fluids and electrolytes by drinking before feeling thirsty, and avoiding exposure to wet weather.
Trail Conditions
KNOW TRAIL CONDITIONS BEFORE YOU START!
Some trails are more difficult than others to navigate in the winter. Stop by the Backcountry Information Center prior to your hike for a trail update. Pay close attention to the weather forecast. Winter travelers are reminded that precipitation patterns in Northern Arizona are quite variable. Just because it is the winter season doesn't mean it looks or feels like winter on the ground. The following descriptions assume that winter has set in and that a snowpack exists on the North Kaibab Plateau. This is most likely to be the case January through March.
The following narrative is meant as an introduction ONLY to winter trail conditions on the South Rim (west to east). Further research, including talking with the Backcountry Information Center, is highly recommended prior to your first winter hike in the canyon.
The South Bass Trail can be difficult to access in winter due to the necessity to travel on 30 miles of remote roads. During wet years snow is the main hindrance with mud being the biggest concern in late winter and early spring. The primary access road is FR 328 which is administered by the U.S. Forest Service. The Boucher Trail as it parallels the west side of Hermit Canyon is known for developing a serious stretch of ice after big storms and during the spring melt. This is due to the trail's west-facing exposure which allows for significant daytime heating. When this daytime thaw combines with the cold nighttime temperatures of the upper canyon you have a perfect recipe for trail-ice. The Hermit Trail has less snow and ice than any other trail on the South Rim. This is due in part to the trailhead being at less than 7000ft. In addition, at about 0.5 miles the trail turns from north-facing to southwest-facing as it descends through the Coconino Sandstone. So expect some snow and ice at first, but with quickly improving conditions as you descend. The Bright Angel Trail is a fault line trail that is primarily north-facing. Packed snow and ice tends to be consistently encountered for the initial three miles. The South Kaibab Trail is a ridgeline trail that receives considerable daytime heating. The initial 1/4 mile, known as the Chimney, is north-facing and holds ice all winter long. Below the Chimney, ice is intermittent. The Grandview Trail is north-facing and at a higher elevation and thus receives considerable snow at the trailhead. This trail, more than any other, tends to turn around unprepared hikers due to the combination of narrow sections of trail, exposure, and ice. The New Hance Trail and the South Bass Trail are the least used South Rim trails in the winter. First time winter hikers often report route finding problems on the New Hance Trail. The Backcountry Information Center recommends hikers consider not ending a backpack trip on this trail in winter, especially when a big storm is forecasted. The Tanner Trail has a long and prolonged north-facing section. The upper two miles tend to remain snow covered throughout the winter.
Foot travel across the Kaibab Plateau (North Rim) in winter shares many of the pleasures, and dangers, of a journey through a high mountain environment. Deep snow brings peace and a unique kind of beauty to the Kaibab forest, but quiet may be harder to come by when the winds of winter hum across the meadows and howl through the trees. With the exception of avalanche and crevasse, the Kaibab Plateau in winter offers all the potential pitfalls of lofty peaks: high elevation, extreme cold, violent storms bringing remarkable snow fall, and great distances, all encountered in one of the most isolated locations in the lower 48. It's possible to cover the entire 45 miles between Jacob Lake and the North Rim and not see another soul so self-sufficiency becomes the primary requirement imposed by the landscape. Tested and reliable winter tents and sleeping bags, insulation that will work when wet, shell layers that provide effective protection from wind and the wetness of the snow, spare parts for stoves, tents, ski bindings or snowshoes, an efficient snow shovel, plenty of high calorie food, fuel for melting snow, and, most importantly, the personal expertise required to use it all effectively and safely are key components in a successful passage. The tranquility of a quiet evening with a winter sunset flaring overhead represents one face of the Kaibab Plateau, but it is well to remember the sunset obscuring other face, wind-dominated and arctic, which can quickly turn hands to ice and paralyze one's ability to make a rational decision.
The equipment and gear necessary for a North Rim winter trip are not standard lightweight items. Your destination is at 8,000 feet and winter can be severe at this elevation. Come prepared for severe trail ice and deep snow. Cotton clothing and jeans are not appropriate because they hold moisture against your skin hastening hypothermia.
Backpack (if hiking in canyon) or sled (if skiing from Jacob Lake), sleeping bag, sleeping pad.
Base layer and socks (merino wool blend or synthetic), polar fleece or down jacket, exterior waterproof layer, gloves, hat and hiking boots rated to 0 degree or lower.
Sunglasses, sunscreen, sunscreen lip block, map and knife.
Personal medications, toilet paper, headlamp, cook stove and fuel.
Matches or a lighter (fire starting kit), first aid kit.
---
Additional backcountry info can be found on the following webpages.
Last updated: May 5, 2023