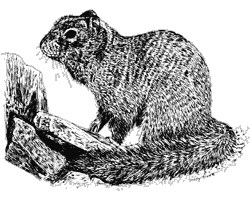 Rock squirrels, frequently fed by visitors, are the leading cause of animal bites at Grand Canyon.
Aggressive deer mice, living off the careless food storage habits of backpackers and river runners, have over run popular backcountry campsites and beaches along the Colorado River.
Ravens, attracted to food wrappers and plastic, pilfer backpacks in the Horseshoe Mesa area.
The notion that critters may be lurking in the backcountry waiting to steal their food irritates some visitors to Grand Canyon National Park. Remember, you are a guest in their habitat. For your safety, the welfare of the wildlife, and the safekeeping of your equipment, you must make your food supply—a foreign substance in the backcountry—as undetectable and unobtainable as possible.
Your actions can put other people at risk of food pilfering, since animals regularly revisit areas where they easily obtained food. At worst, your behavior may lead directly to the death of a wild animal. These guidelines are meant to protect people, equipment, and the wildlife.