Hike Smart Tips - Audio Podcasts by PSAR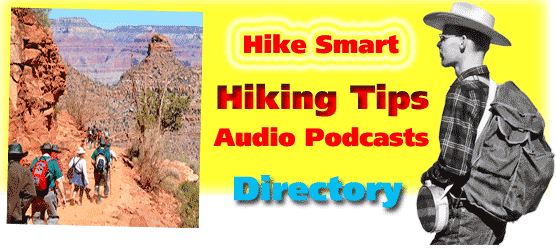 Click on Links for MP3 Downloads and Transcripts


Hike Smart Podcast 01 (02m:34s) What is Preventative Search & Rescue?
The program was started in 1997 as an effort to reduce the hundreds of heat-related illnesses park visitors were experiencing every summer. PSAR Rangers patrol the main trails, and ask hikers questions about their hiking plans. Listen

Hike Smart Podcast 02 (07m:09s) The Ten Essentials
Whenever I hike the trails, even if I'm only intending to go a short distance, I always bring the ten essentials. At the Grand Canyon plans can change quickly due to the weather, illness, injury or fatigue. Listen

Hike Smart Podcast 03 (05m:31s) Heading Down the Trail
You know, it's all about planning... Before we start down the trail, there are a few to consider. First, are you in good physical condition? If you have a medical condition, talk to your doctor before visiting. Make sure you are healthy enough to hike steep and difficult trails. Listen

Hike Smart Podcast 04 (04m:42s) Self Rescue Tips
In this podcast we're going to discuss some self-rescue tips and common problems encountered by hikers on the trail. One of the great things about Grand Canyon hikers is that they tend to look out for each other. Listen

Hike Smart Podcast 05 (07m:18s) Hiking with Infants & Toddlers
Heading out into the natural environment with children can be a fantastic experience for both parent and child. Children often bring our attention back to the wonder of small things we may miss while taking in the grandeur of the Canyon. Listen...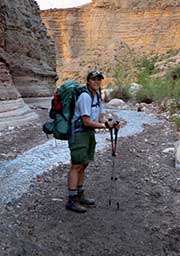 Hi, my name is Sarah and I'm a PSAR Ranger here at Grand Canyon National Park. Grab your earphones and come on a virtual trail patrol with me. This podcast series allows you to experience a day in the life of a Preventative Search and Rescue Ranger.

We'll meet up with other hikers and learn about what to expect on the trail, the 10 essentials you should always bring with you (even on a short hike), how to rescue yourself, some tips for hiking with children, and most of all how to HIKE SMART! Dust off your boots and listen to the Hike Smart podcasts, here on the Grand Canyon website, or on the iTunes Hiking Grand Canyon Channel.

This podcast series was produced by Park Ranger Patrick Gamman.
Grand Canyon: Hiking to Beat the Heat  10m:23s

Some tips for hiking in the extreme heat of the inner canyon; tips that can mean the difference between an enjoyable hike and a potentially fatal one.

Credit / Author:

Andrea Tavegia

Date created:

2013-07-16
Two Short Slide Shows About Hiking.

Loading the player...
Visit JWPlayer docs for keyboard shortcuts
Duration:

3 minutes, 11 seconds
Many options are available for day hiking in Grand Canyon National Park. This slide show introduces the Rim Trail, the South Kaibab Trail and the Bright Angel Trail.
Loading the player...
Visit JWPlayer docs for keyboard shortcuts
Duration:

1 minute, 6 seconds
A successful and safe winter hike depends on weather and routes, but realize that any hike can be affected by unforeseen natural occurrences. Always be sure you have adequate food, water, and equipment to deal with the unexpected.