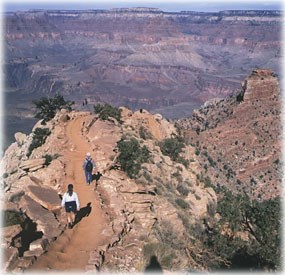 Over 250 people are rescued from the canyon each year. The difference between a great adventure in Grand Canyon and a trip to the hospital (or worse) is up to YOU. DO NOT attempt to hike from the rim to the river and back in one day, especially during the months of May to September.
Many options are available for day hikers. Both the South Rim and the North Rim offer rim trail hikes that have spectacular views of the inner canyon, some on paved trails. Or you can choose to day hike into the canyon. Permits are not required for non-commercial day hikes.
Day hiking can be a safer and more enjoyable choice than an overnight trip into a difficult area that is beyond the capabilities of any single member of your group.
WARNING: There are no easy trails into or out of the Grand Canyon!
Water is available (year-round) on the South Rim at the Backcountry Information Center in the lobby. Water available (year-round) on the North Rim outside the Backcountry Information Center. Additional water bottle filling stations can be found on the Go "Green" and Refill Your Water Bottles web page.