Big Tubes Area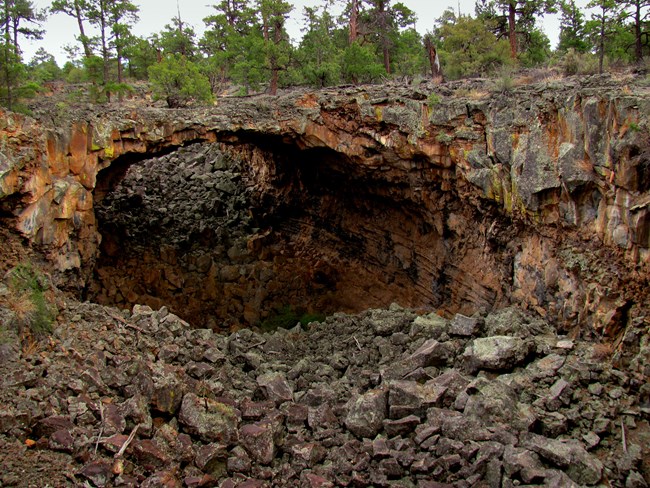 Hiking at Big Tubes can be a rewarding challenge for those prepared to hike a rugged landscape marked by cairns. Download the Big Tubes Area Trail Guide or pick one up at the El Malpais Visitor Center before heading to Big Tubes. The trail makes a rough figure-8 shape, so the hike can be made shorter if desired.

Geological features abound with lava bridges, collapsed tubes, a'a lava flows, and lava tube caves. Free caving permits are required to visit all lava tube caves in El Malpais National Monument. Caves are often closed seasonally so please check the alerts for cave closures before planning a visit to any caves.

Driving to Big Tubes can be an adventure on its own. To reach the Big Tubes Area, drive down County Road 42 to the Big Tubes Road (NPS 300) and travel 4.5 miles (7.2 km) to the parking area. High clearance and four-wheel-drive vehicles are highly recommended, as road conditions can vary greatly throughout the seasons. Speak with a ranger at the El Malpais Visitor Center for the most up-to-date conditions.

Picnic tables and pit toilets are available for day use at the trailhead. Accessibility on the Big Tubes Trail is not available to wheelchairs or powerchairs due to the rugged terrain.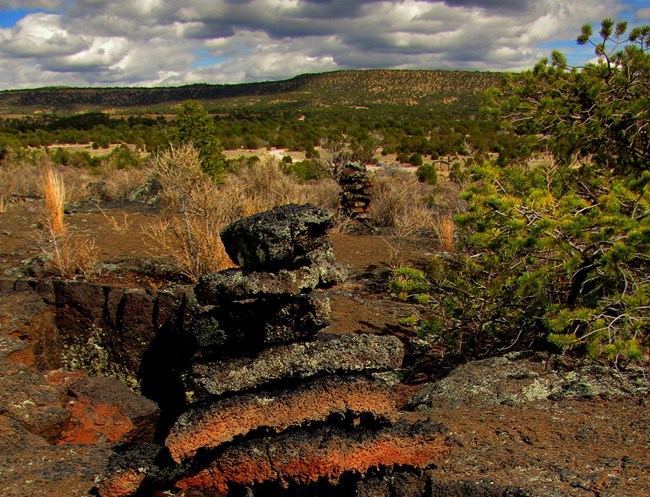 Hiking Cairned Routes
Sometimes the only trail markers along El Malpais trails are cairns: a series of rock piles used to trace a route across the land. Cairns are common on lava landscapes where creating a traditional trail or footpath is impossible because of the extreme nature of the terrain.

Hiking cairned routes requires more attention to navigation. As you travel, make sure you have the next cairn in sight before moving on to the next one. Keep your eyes on the land while walking; the uneven nature of the terrain demands it since there is no even surface. If you want to enjoy the views, stop first to get a secure footing, and then look around. Look back frequently to stay familiar with the landscape as it changes.

Please take care not to disturb cairns as you hike. Do not build new cairns. Building cairns off the intended route may cause other hikers to become disoriented and lost.
Last updated: May 12, 2021