Ranger Programs
All ranger programs are cancelled until further notice for public and staff safety.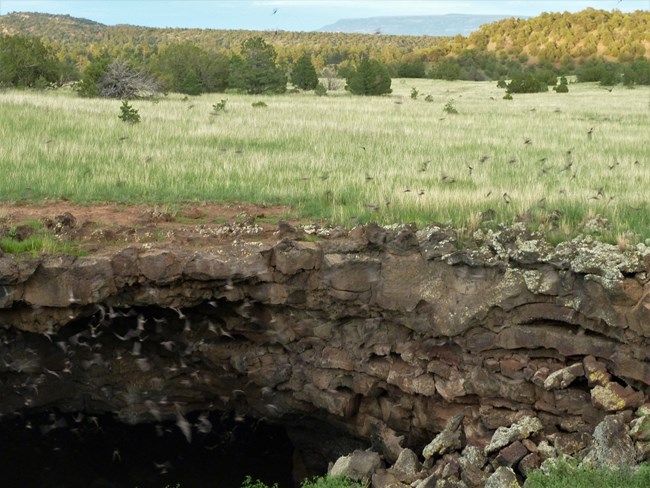 During summer months you can join a park ranger in the El Calderon Area of the park for a 1.5 mile roundtrip hike that includes an outflight of Brazilian free-tailed bats.
During each summer's evening, Brazilian free-tailed bats leave Bat Cave to hunt for insects. Sometimes this includes thousands of individual bats!
Guided bat outflights usually occur weekly during the months of June through the beginning of September. The program is weather permitted. Please contact the
El Malpais Visitor Center
at (505) 876-2783 or look on the
events calendar
for more information.
Seeing Bats On Your Own
Since bats fly out of Bat Cave in search of food every night, it's not required to attend a ranger program to watch them. If you miss it or would prefer a more personal experience, you are still welcome to watch the bats on your own.
Know Before You Go
Bring a flashlight, ideally stronger than a cell phone, for the hike back to the parking lot.
Check the weather forecast. Late summer is in the middle of the monsoon season, and thunderstorms may pop up as the day goes by.
Leave your pet at home. Dog barks are disorienting to bats.
The peak season for outflight numbers hovers around the first week of July.
Be mindful that reptiles, such as rattlesnakes, become more active as the sun goes down. Keep an eye (and ear) out for them on your way to and from the cave, and give them plenty of space if you see one.
Once You're at the Cave
Keep quiet, or speak in hushed voices as needed, as you approach and stay around the cave.
Using flash photography is discouraged. You are still welcome to take photos and video, just without flash.
Never shine your flashlights at the bats.
Sit on the hillside opposite the cave entrance.
There are many caves in our park that bats can use and many factors (such as weather) that may affect their activity, so be aware that the number of bats emerging may vary throughout the year.
Hiking
Lace up your shoes and explore a trail!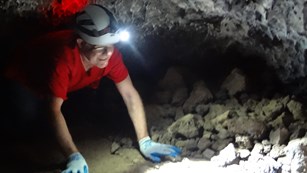 Caving
See what you'll discover in a lava tube cave!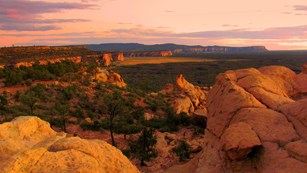 Scenic Driving
See what you can see from the comfort of your car!
Last updated: February 4, 2021