Ranger Programs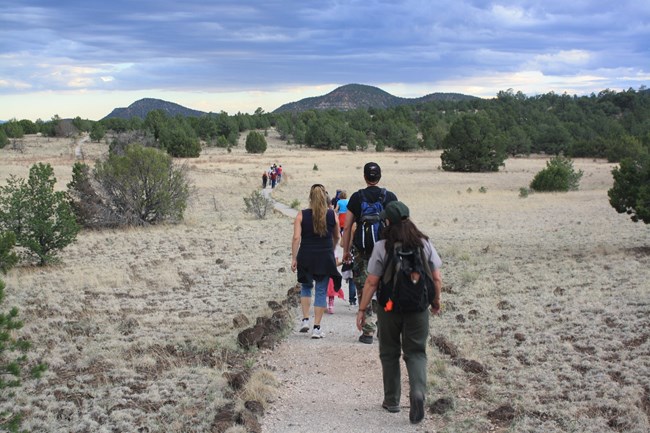 El Calderon Guided Hikes
Join a park ranger at the El Calderon Trailhead to learn more about the fascinating geology and ecology of El Malpais' oldest lava flow! See lava tube caves, beautiful grasslands, old forests, and a cinder cone volcano along this 3-mile guided hike.

Where: Meet at the El Calderon Trailhead located 20 miles south of Grants, NM on Highway 53.

When: This hike starts at 10:30 AM at the El Calderon Trailhead. The guided portion of this hike will take approximately 2 hours but allow another hour to explore the rest of the trail on your own.

El Calderon Hike Dates:
Saturday, November 11
Sunday, November 12
Saturday, November 18
Sunday, November 19

Trail Details: El Calderon is a moderately difficult trail with an elevation gain of approximately 300 feet. Most of the trail is gravel with some short stretches of cinder and lava rock. The portion of the trail that this guided hike will follow is about 3 miles long, but there is an optional 5-mile loop that will be available after the guided portion of the hike finishes.
What about the bats?
The Brazilian free-tailed bats have flown south for the winter. Other bat species are getting ready to hibernate. Bat Outflight programs will return next summer!
Last updated: October 29, 2023