THING TO DO
See a Bat Outflight at Bat Cave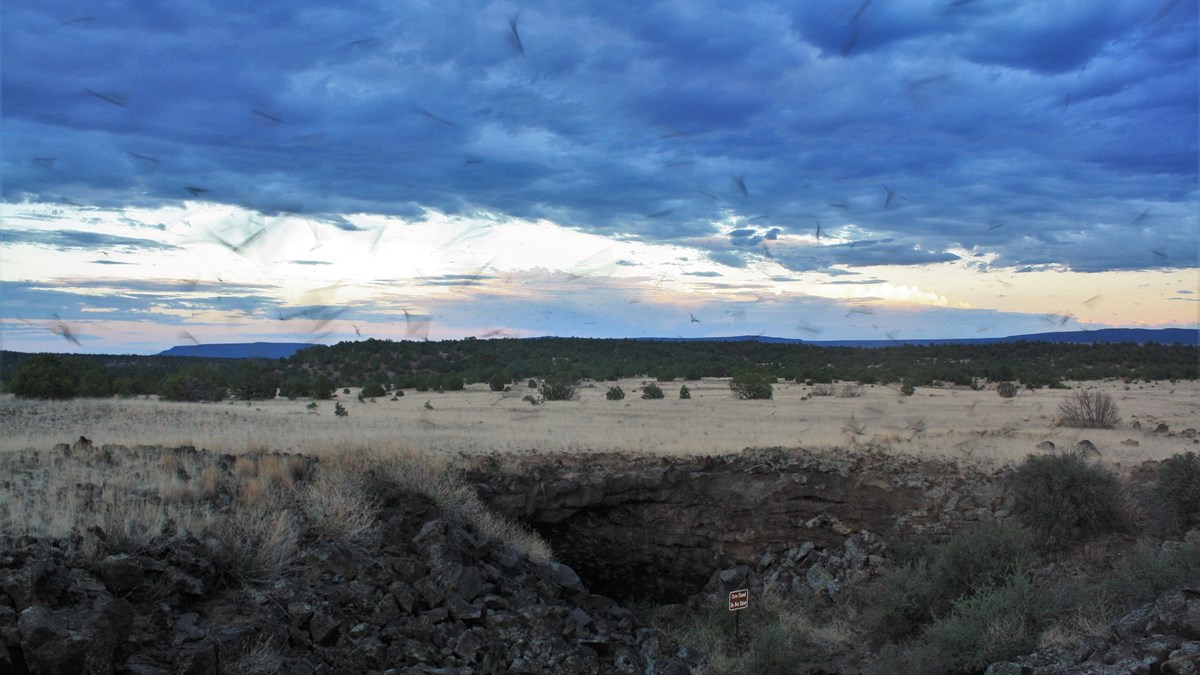 On warm summer evenings, Brazilian free-tailed bats burst from a lava tube known as Bat Cave for a night of hunting insects over the lava flows of El Malpais National Monument. Witness this phenomenon for yourself along the El Calderon Trail off Highway 53.
Seeing Bats On Your Own
Bats fly out of Bat Cave in search of food most summer evenings. Head out to El Calderon before sunset to see the bats, but be sure to take proper precautions to ensure the safety of both the bats and you!
Know Before You Go
Bring a flashlight, ideally stronger than a cell phone, for the hike back to the parking lot.
Check the weather forecast. Late summer is in the middle of the monsoon season, and thunderstorms may pop up as the day goes by.
Leave your pet at home. Dog barks are disorienting to bats.
The peak season for outflight numbers hovers around the first week of July.
Be mindful that reptiles, such as rattlesnakes, become more active as the sun goes down. Keep an eye (and ear) out for them on your way to and from the cave, and give them plenty of space if you see one.
Once You're at the Cave
Keep quiet or speak in hushed voices as you approach and stay around the cave.
Using flash photography is discouraged. You are still welcome to take photos and video, just without flash.
Never shine your flashlights at the bats.
Sit on the hillside opposite the cave entrance.
There are many caves in our park that bats can use and many factors (such as weather) that may affect their activity, so be aware that the number of bats emerging may vary throughout the year.
Ranger-led Bat Outflight Programs
Ranger guided bat outflights may be offered during summer months. The program is weather permitted. Please contact the El Malpais Visitor Center at (505) 876-2783 or look on the events calendar for more information.
Bat Cave takes approximately 15-20 minutes to reach from the El Calderon trailhead. To view an outflight, plan on arriving at Bat Cave at least 20 minutes before sunset. Bat outflights may last from 15 minutes to several hours depending on how many bats are present.
Activity
Wildlife Watching
All ages welcome, but please be quiet while near Bat Cave to not scare the bats!
While pets are allowed, they may be best left at home. Barking dogs may scare the bats.
El Malpais National Monument is free.
Bat Cave is located approximately 3/4 of a mile from the El Calderon Trailhead off of Highway 53 in El Malpais National Monument.
Typically, the best time to see bats is late May to early October, although bats may appear earlier or later in the summer depending on the number of insects to feed on. Ask a ranger for the latest information on bat outflights.
 
Bats typically emerge from Bat Cave around sunset. For the best chance of seeing bats, plan to arrive at Bat Cave 20 minutes before sunset.
Accessibility Information
Bat Cave is located approximately 3/4 mile from the El Calderon trailhead. The trail is approximately 3ft wide, graveled, and relatively flat with a slight incline.The trail does become rocky while passing Double Sinks and near Bat Cave and Xenolith Cave.
Last updated: June 14, 2021