Park Ranger Programs and Field Seminars
Note: Ranger programs in Denali are mainly offered in the summer, from mid-May through mid-September. Some weekend ranger walks and special programs are available in fall, winter, or spring—check our event calendar to see if anything is scheduled for when you plan to visit.
Whether you seek a short interaction or plan to fill multiple days attending these programs, park rangers are here to help you understand, appreciate and take care of your park.
With the exception of Discovery Hikes, all ranger hikes, sled dog demonstrations, campground programs and other talks in Denali are free and do not require you to sign up in advance. Discovery Hikes are technically free, but will likely require you to purchase a bus ticket and you must sign up for them in advance.
Types of Ranger Programs in Denali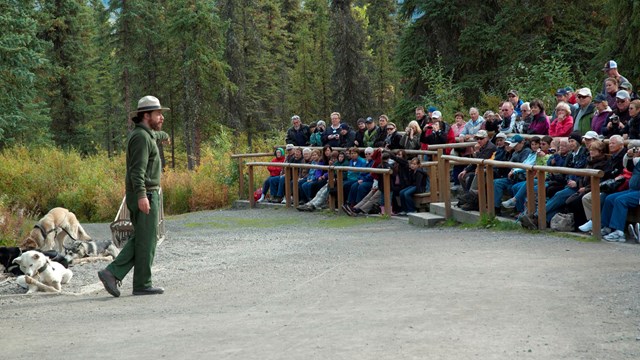 Sled Dog Demonstrations
Learn about the historic and modern uses of Alaskan huskies in Denali.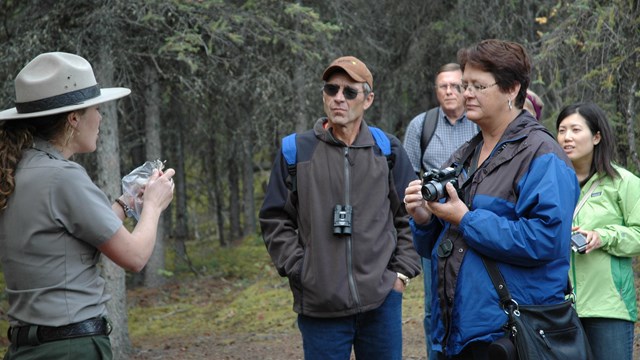 Ranger-Led Trail Hikes
Join a ranger to explore the boreal forest on a hike from the Denali Visitor Center.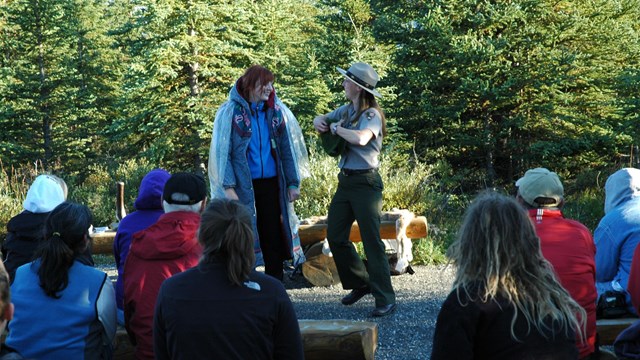 Ranger Talks
Join a ranger at a campground or elsewhere for short, informative talks on all kinds of Denali-related topics.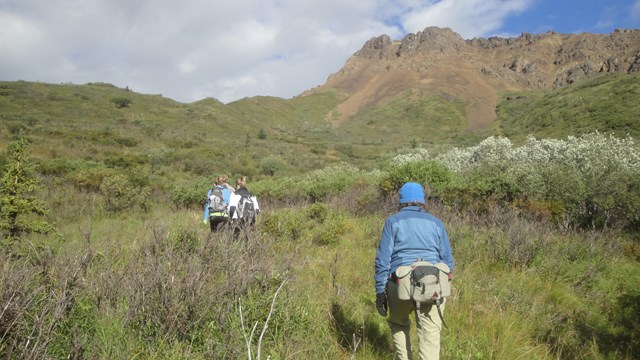 Off-Trail Discovery Hikes
If you will be here for several days, consider signing up at the visitor center for an off-trail ranger hike.
Accessibility
Please contact us if you have questions about accommodations for ranger programs that are not answered by this accessibility information.
American Sign Language
Our goal is to provide American Sign Language interpretation, when requested, for all ranger programs. Denali is very remote, however, so please
request ASL interpretation
as early as possible and at least two weeks in advance to ensure that we can accommodate your request.
---
Other Naturalist and Education Programs
Our partner non-profit association, Alaska Geographic, also offers a variety of programs for visitors. Other than field courses, these programs occur at the Murie Science and Learning Center.
Daily open hours at the MSLC from 12–4 pm for families and other curious minds to explore science in Denali. A guided lesson is offered daily at 1 pm.
Evening speaker series
7 pm science presentations on Friday evenings throughout the summer.
Multi-day, hands-on field courses instructed by park scientists and talented educators, June through September
---
Ranger Program Schedules
As you look through the calendar below, keep the following notes in mind:
Getting to the kennels for a sled dog demonstration involves arriving at the Denali Visitor Center bus stop 40 minutes before the demo begins. There is no parking available at the kennels, so park at the visitor center (if you have a car) and ride a free bus to the demonstration. Alternatively, you can walk on the Roadside Hiking Trail (2 miles, ~1 hour) from the visitor center to the kennels.
Most ranger-led programs occur daily from mid-May through September. Some weekend ranger programs are available in fall, winter, and spring, and special programs or events may occur at any time.
Additional programs may be offered each day. Look for fliers or inquire at the Denali Visitor Center for ranger chats, additional guided walks, and special activities.
Last updated: March 28, 2023