Avoid the Crowd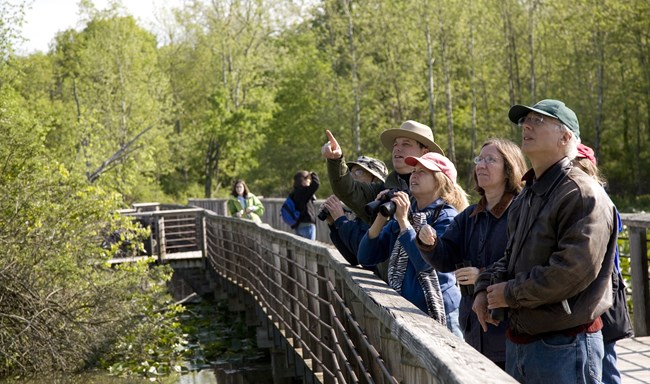 Parking at The Ledges
The Ritchie Ledges are witnesses to change - from creation out of Sharon Conglomerate millions of years ago, to landscapes changed by humans and to preservation today. Visit the Ledges during non-peak hours to avoid the crowds and limited parking.
The trail is not accessible to visitors with mobility impairments.
There is typically parking available in the large lot adjacent to the shelter and trailhead.
Additional parking and access to the area's trail system can be found at Virginia Kendall Lake and The Octagon shelter.
Parking at Brandywine Falls
This 65-foot waterfall is accessed via a partially accessible boardwalk. Avoid this area during peak time as it is our most popular location.
The Brandywine Falls parking area serves both the Summit Metroparks Bike and Hike Trail and Brandywine Falls, making it a very busy location.
During nice weather and throughout the summer, the parking lot is generally full between 10 a.m. and 2 p.m.
Arriving early or later in the day may improve the likelihood of getting a parking space.
Parking is not permitted outside of designated parking spaces or along the roadway.

Parking for Blue Hen Falls

*Closed*
This 15-foot waterfall is a beautiful hike any time of year. Visitors can access the falls by hiking 1.5 miles on the Buckeye Trail from the Boston Mill Visitor Center. The Blue Hen Falls parking lot on Boston Mills Road is closed.
The Buckeye Trail is steep, rocky, and often muddy. The elevation gain from the visitor center is about 200 feet.
The hike requires an unmarked road crossing. Please cross with caution.
After the road crossing, there is a steep hill down to the falls.
Parking outside of designated areas or along the roadway is prohibited.
During nice weather and throughout the summer, the area is busy between 10 a.m. and 2 p.m.
Parking for the Towpath Trail
The Towpath Trail is open 24 hours, giving you the chance to explore after dark. Within the national park, the trail is level and hard-packed for people using wheelchairs, bicycles, or strollers.
There are many access points for the trail throughout the park.
Many parking lots fill early in the day or are congested throughout the day. Lock 29 in Peninsula, Boston Boston Mill, Hunt House, and Ira Trailheads are some of the busiest in the park. Plan to arrive to these lots early in the day or consider accessing the trail from Canal Exploration Center, Rockside Road, or Station Road.
Weekends on the Towpath Trail can be crowded. Hikers and cyclists share the trail with the sections between Boston Mill and Hunt House being the busiest.
For more activities and trip planning advice click here.
Last updated: August 8, 2021