Having Fun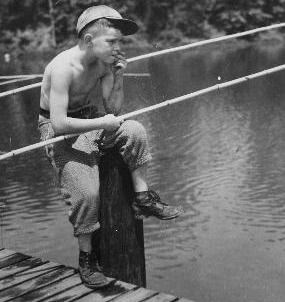 During each season, children found time to take advantage of the Cuyahoga Valley's natural resources. After working under the beating summer sun, friends rang a bell to announce a swimming party. At the pinnacle above Hale Farm, children had pretend adventures, scaling the hill and forging new paths. Waterfalls, riverbeds, wildflower fields, and other natural features became a childhood paradise between two of Ohio's largest urban areas.

Many longtime residents of the Cuyahoga Valley have vivid memories of their childhood adventures (see below). Also click to hear additional stories about having fun in Everett.
Rope Swing

Recollections of having fun in the Cuyahoga Valley.
Playing With Fire

Pat Morse tells stories about a rope swinging game she and her childhood friends invented, and the near disaster of building a dangerous bonfire.
Fishing and 4H.

Daniel Emmett of Richfield lists some of the fun activities he remember sharing with his childhood friends.
A Little Paradise

Josephine Davis describes the natural features that made her family's farm in Brecksville so special.
Music at Home

Children also found entertaining activities indoors. Marjorie Osborne Morgan, who grew up in Everett, describes playing and listening to musical instruments with her family.
Click on the links to discover more:
Last updated: December 5, 2021