Doing Chores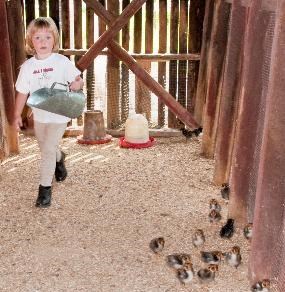 Since the first Western Reserve farmers arrived in the Cuyahoga Valley, farm children balanced chores with education. On larger farms, parents needed their children's help to manage the farm and sell its products. In addition, children went to school, participated in extracurricular sports and activities, and completed their homework.

On the farm, children had important responsibilities, from milking cows to picking and selling corn at a roadside stand. Their labor affected the success of the family's farm. To earn extra money, teenagers and young adults often got part-time jobs building roads, drilling wells, or working for other local businesses.

---
In Their Own Words
Click the topics to hear stories about Cuyahoga Valley life.
Childhood Chores (21 seconds)
Dorothy Vani and her brother Myron Marfut describe their responsibilities on their mother's farm, located on Akron Peninsula Road.

Caring for Horses (22 seconds)
Carol Haramis, who owns and manages Heritage Farms in Peninsula with her husband, describes how she was responsible for taking care of horses when she was a child.
---
Click on the links to discover more:
Last updated: December 10, 2018