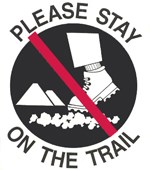 Before You Step Off the Trail...
Please consider that these lava flows and features are thousands of years old and easily damaged by off-trail travel. In addition, park regulations prohibit off-trail travel around the North Crater Flow and Spatter Cones/Big Craters areas (see maps on trailhead signs to identify specific closure areas).
You are also quite fragile and easily damaged by sharp and abrasive lava rock! Taking a fall will almost certainly result in cuts and scrapes. When hiking on trails we encourage you to slow down and use caution. Sturdy shoes (no sandals) and long pants are highly recommended. When exploring caves a hat or helmet for head protection and a flashlight are a must. Thank you for helping to protect your Monument and yourself!
Pets
Pets are welcome in the campground and in parking lots and paved roads but not in the visitor center or on NPS Monument trails (with the exception of service animals). For the protection of your pet and park wildlife, pets must be kept on a leash at all times.