Thing to Do
Explore a Cave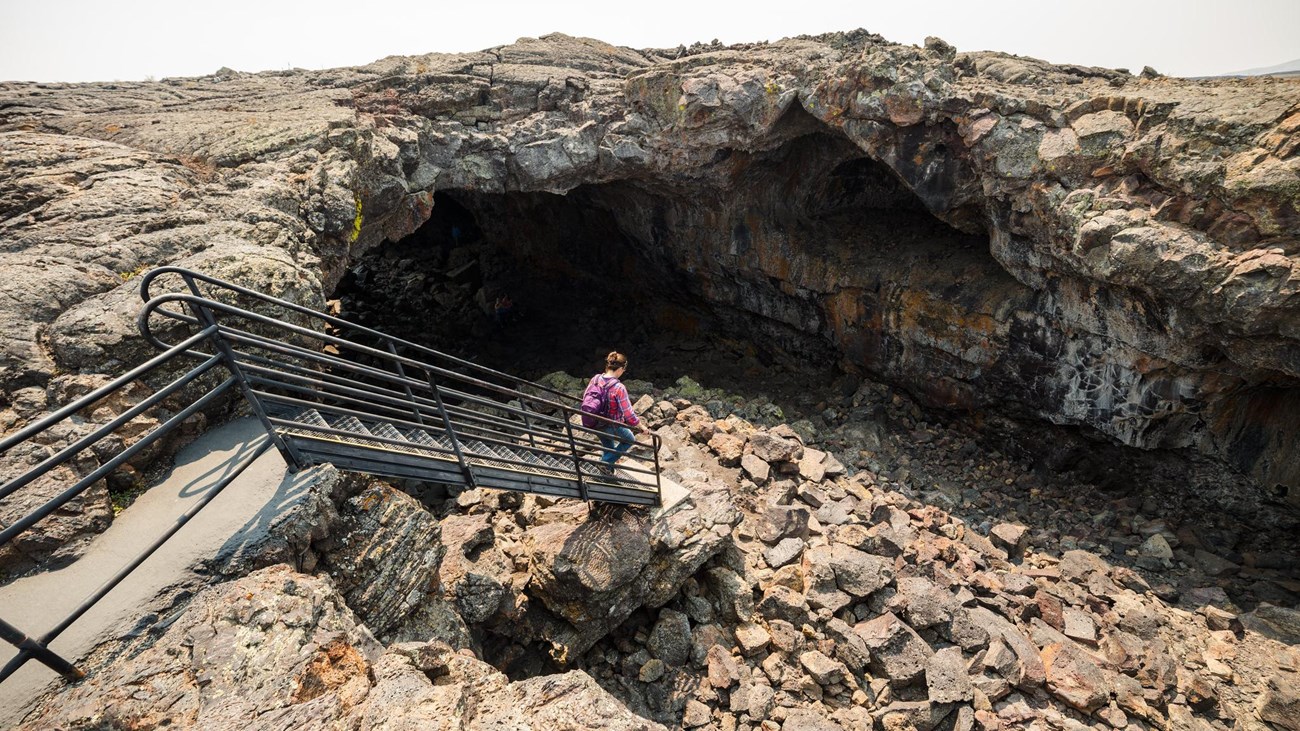 The caves at Craters of the Moon are lava tubes, formed by hot rivers of molten rock flowing beneath the surface. Today, these hollow lave tube caves provide refuge for bats and other wildlife, and two popular caves offer unique opportunities for visitors to explore a dynamic and fragile underground world.
Cave Permits Protect Bats
A free permit is required to enter caves at Craters of the Moon. Obtain a free permit at the visitor center during business hours. The Annual, Senior, Access, and Military passes do not count as a cave permit.
If you have boots or other gear (such as pants, shirts, hats, gloves, pads, or packs) used in caves or mines outside of Craters of the Moon, please leave these items at home. This is to prevent the spread of white-nose syndrome, a fungal disease that is harmless to humans but fatal in bats. Anything that has ever been in any underground space cannot be worn or brought into the caves at Craters of the Moon, even if it has been washed or decontaminated
Help protect bats by observing all closures. All caves in the park outside of Indian Tunnel and Dewdrop Cave are closed to the public.
---
Cave Safely
The caves are filled with snow during the long Idaho winter and slowly melt out in the spring. In a typical year, the cave entrances are not free of snow and ice until mid to late May. Check current conditions. The major dangers while exploring caves are rockfalls, falling, or getting lost.
Sturdy closed-toed shoes are a necessity for the difficult, uneven terrain of Craters' caves.
Long sleeves and pants keep you warm in chilly caves and help to protect you from scrapes on sharp lava rocks. Gloves and kneepads are recommended in difficult caves.
Each person should carry at least one flashlight or headlamp, but having extra light sources and batteries is strongly recommended. Three light sources per person is ideal.
Bring plenty of water. There is no shade on the trail to and from the caves and summer temperatures often exceed 80°F (27°C) above ground.

Know the abilities of everyone in your group and don't push beyond anyone's limits. Children and seniors should be able to walk safely on their own. Caves are not appropriate places for infants.

Explore as a group. If you must go alone, choose easier caves and carry three light sources.

Tell someone where you are going and when you expect to return. Do not deviate from your planned itinerary, and be sure to check in with them when you return.
Cave Softly
Caves are a fragile and precious resource and an important part of the Craters ecosystem. Help to protect them by "caving softly."
Stay on available trails: Walking off trail damages fragile lava flows found at the cave sites.
Leave no trace of your visit: Do not eat, smoke, or leave trash in the caves. 
Do not use caves as bathrooms! Vault toilets are available at the Caves Trail parking area, so plan accordingly. In a pinch, use a wag bag or plastic bottle for waste, and pack everything out with you.
Wherever possible, look but don't touch. Remember that all cave features are fragile and irreplaceable. Do not remove any rocks or other objects from the caves area.
Please respect any wildlife you may encounter in the caves by not shining light directly on them.
Pets are not permitted in caves.
Alcohol is not permitted in caves.
---
Exploring the Caves
There are two caves you can explore at Craters of the Moon. All other lava tube caves found in the monument are closed to visitation in order to help protect sensitive bat populations. Please note that Buffalo Cave, Beauty Cave, and Boyscout Cave are currently closed.
Caves Trail
Follow this 1.6 mi (2.6 km) round-trip trail to access two popular caves:

Indian Tunnel
800 ft long, stairs provided at entry
EASY

Dewdrop Cave
Open, bouldered entrance
MODERATE
Entrance fees may apply, see Fees & Passes information.
Season
Spring, Summer, Fall
Accessibility Information
Terrain in the caves is rough and uneven. Navigating caves may require scrambling over rocks or crawling through small spaces. Some rocks may be loose. Access to Indian Tunnel is via a set of stairs. Indian Tunnel has natural skylights and is bright during the day, but has some areas that are poorly lit. Dewdrop Cave is dark and unlit beyond the entrances.  

Pets are not allowed on trails or in caves, but service dogs, dogs that are specially trained to perform a task for a person with a disability, may go wherever visitors are allowed.

TRAIL LENGTH: 1.6 miles (2.6 km) round-trip
CUMULATIVE ELEVATION CHANGE: Gain 95 ft (29 m), loss 93 ft (28 m)

TYPICAL GRADE: 2.5° (4.5%)
21% of trail is from 4.5° to 36.5° (8% to 74%)
Standard wheelchair ramp is 4.5° (8%)

TYPICAL CROSS SLOPE: 1.5° (3.3%)
16% of trail is from 4.5° to 16° (8% to 29%)

TYPICAL TREAD WIDTH: 43 in (109 cm)
MINIMUM TREAD WIDTH: 30 in (76 cm)

TRAIL SURFACE: Asphalt
100% of trail is PAVED
OBSTRUCTIONS (inside caves): ROCKS to >18 inches , STEPS to > 2 feet, LOW CEILINGS
Last updated: March 5, 2023