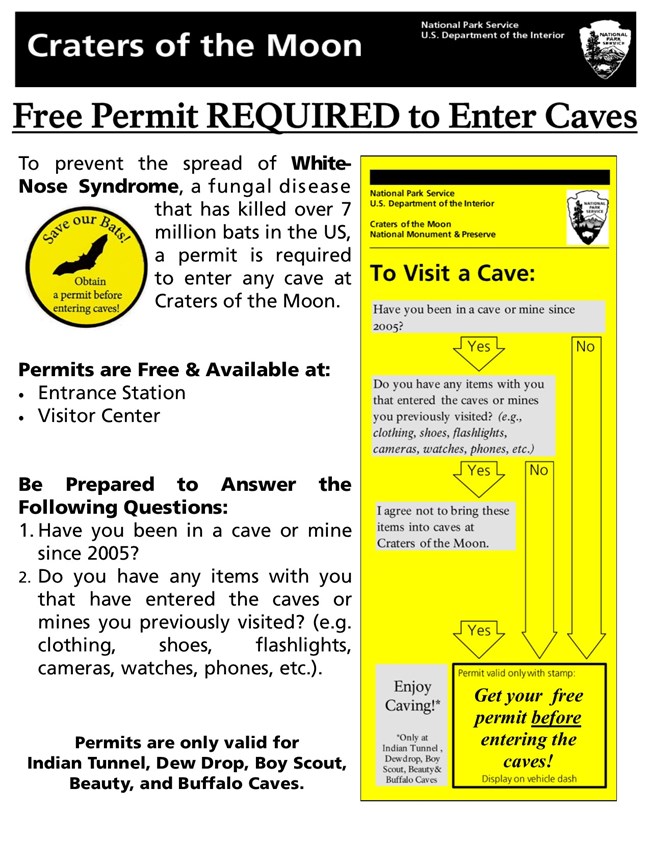 In 2005, a deadly fungus was introduced to bat populations in the United States. Since then, this country has seen more than 7 million bat deaths due to this hardy and virulent fungus, P. destructans. Although humans aren't susceptible to this fungus, they can potentially and unknowingly collect and carry the fungus in their clothing, bringing it into new caves, mines, and other bat roost sites.
Help Us Protect Our Bats!
Since humans are a potential carrier of the bat-killing fungus, Craters of the Moon National Monument and Preserve has instituted a screening procedure to help prevent the spread of white-nose syndrome to its caves. If you are planning on entering any cave within Craters of the Moon National Monument, please stop by the Visitor Center or Entrance Station to receive you free Cave Permit. Displaying this permit on the dashboard of your car will show that you have been through the screening process and that you are helping protect the bats that live here.
If you have gear (Shoes, boots, pants, shirts, jackets, hats, gloves, pads, packs) that has been used in caves or mines outside of Lava Beds National Monument, please leave these items at home. Any soft or porous item that has been into any other caves will not be permitted into the caves at Craters of the Moon National Monument.
To learn more about white-nose syndrome and how you can help to protect the bats at Craters, view our WNS poster.