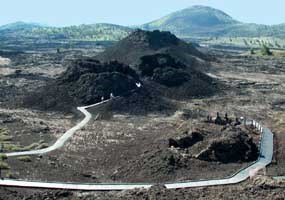 The National Park Service welcomes people with disabilities.
The Interagency Access Pass provides free entrance to all National Park Service sites and other benefits. Visit this link to find out more about the Access Pass.

Service animals are allowed in national parks. For a definition of a service animal, please visit:

www.ada.gov/service_animals_2010.htm

Mobility
The visitor center, including restrooms, is fully accessible.

Restrooms in the campgrounds are fully accessible. Lava Flow Campground sites #34, #35, #42 & #3 and are fully accessible. Site #34 includes an electrical outlet for those who need it for medical reasons.

Devil's Orchard Trail, the "Snow Cone" portion of the Spatter Cones trail and the sidewalk connecting the campground to the visitor center are fully accessible. Complete trail accessibility information

Hearing and Visual

Topographic models of park and regional landscapes are available for viewing and touching in the visitor center. Copies of the park map and guide are available in braile.

All audio-visual presentations in the visitor center museum are captioned. Audio description is also available as a push-button option for the film in the museum. Audio description and assistive listening devices (head-sets and an induction loop for hearing aids) are available for the movie shown in the visitor center theater. In addition, one part of the exhibit in the visitor center museum has audio description capability.

Hard copy scripts or outlines are available for all interpretive presentations by request.

Ask any staff person for access to listening devices or other concerns.