Accessibility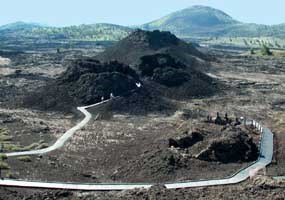 The National Park Service welcomes people with disabilities. We are happy to provide the following services, and we are striving to improve accessibility for all visitors.
Access Pass
The Interagency Access Pass provides free entrance to all National Park Service sites and other benefits for U.S. citizens and permanent residents with permanent disabilities. Obtain an Access Pass from the park entrance station. Visit this link to find out more about the Access Pass.
Service Dogs
According to the ADA, a service animal is a dog that is individually trained to do work or perform tasks for a person with a disability. Service dogs are working animals, not pets. Service dogs are welcome and are legally permitted anywhere that visitors can go.

For a full definition of service animals, please visit: www.ada.gov/service_animals_2010.htm
Mobility
Visitor Center: The visitor center, including restrooms, is fully accessible.
Campground: Restrooms in the campground are accessible. Lava Flow Campground sites #3, #34, #35, and #42 are accessible. Site #34 includes an electrical outlet for those who need it for medical reasons.
Trails: Devil's Orchard Trail, the "Snow Cone" portion of the Spatter Cones trail, and the walkway between the campground and visitor center are accessible. Detailed trail accessibility information is available here.
Audio & Visual Assistance
Copies of the park map and guide are available in braille.
Topographic models of park and regional landscapes are available for viewing and touching in the visitor center.
Audio description and assistive listening devices are available for the film in the visitor center theater. Audio description is also available for a portion of the museum exhibits.
All audio-visual presentations in the visitor center museum are captioned.
Scripts or outlines are available for interpretive programs by request.
Ask any staff person for assistance or access to listening devices.


Last updated: July 30, 2020