Pets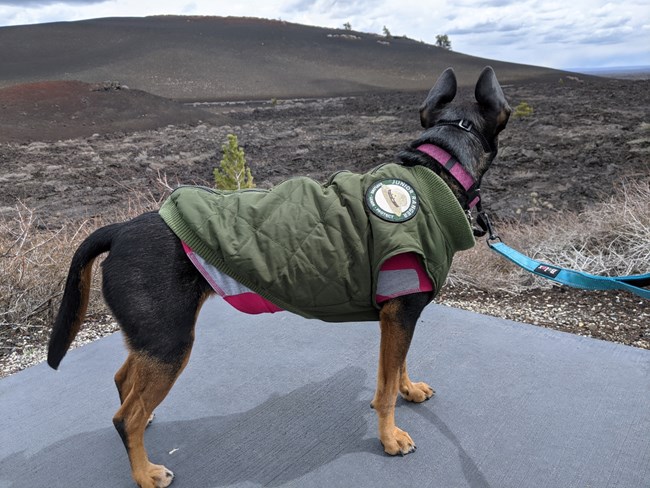 Be a B.A.R.K. Ranger!
Where Can Pets Go?
Pets must remain on a leash no longer than six feet. Pets are not allowed on any trails or in the visitor center even if they are carried. Pets may walk on the road, in the campground, and in parking areas. Please properly dispose of pet waste. Service dogs (those who are individually trained to perform a task for a person with a disability) are permitted to travel wherever people can go.

Visitors are encouraged to leave pets at home when possible, as opportunities to explore the park with pets are very limited. Pets should never be left unattended in vehicles or the campground. Parking areas do not have shade and air temperatures can soar into the 90s in the middle of summer.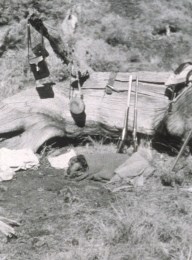 Why Aren't Pets Allowed on Trails or on the Lava?
Rules are in place to protect both wildlife and pets. The presence of pets and the scents they leave behind impact the behavior of wildlife. Pets can also introduce new diseases to the park like canine distemper and toxoplasmosis.

Just as importantly, Craters of the Moon is a hazardous place for pets. The park's rough lava terrain can be uneven and hot, with many cracks and sharp edges that pose a danger to pets' paws. The surface of the dark rocks can reach 150°F (65°C) or more in the summer!

In the 1920s, Robert Limbert set out on an expedition to explore and map Craters of the Moon. His dog Teddy was perhaps the first and only known dog to walk the Great Rift. Unfortunately, the lava shredded his paws, as well as the feet of another expedition member, and the group was forced to rest for a few days in order to heal up. Today, pets are safer when they stay on paved roads.
Last updated: September 23, 2023