Basic Information
Here are some things you might want to know about the Chickasaw National Recreation Area before you visit the park and surrounding area.

Chickasaw National Recreation Area is named after the Chickasaw Nation, but is operated by the National Park Service
The park is located in south-central Oklahoma, approximately halfway between Oklahoma City, OK and Dallas, TX. See more detail on our maps page.
Six campgrounds provide over 400 campsites throughout the park.
There are no cabins in the park. Options are available in the surrounding area.
Pets are permitted in many areas of the park, but it is important to plan ahead if you are bringing them with you.
There are no entry fees. Fees are charged for camping and for launching a motorboat onto Lake of the Arbuckles.
Campfires are allowed only in provided fire grates. Depending on the time of year and weather conditions, a burn ban may be in effect.
Over twenty miles of trails provide a variety of experiences in the park. Other popular activies include boating, fishing, hunting, and swimming.
South-central Oklahoma is subject to seasonal thunderstorms. Storm shelters are available in the nearby community of Sulphur.
Travertine Creek can be very crowded in summer, particularly on weekends and holidays. Once designated parking spaces are full, cars will not be allowed into the Travertine Creek area until people start to leave and parking spaces are available again. The area is still accessible by trail, but walking distances can easily exceed a mile and a half from the nearest available parking on popular days. Parking rarely fills on weekdays, unless they are holidays, or anytime during late fall, winter, and early spring.
Speed limits are stictly enforced.
Our Frequently Asked Questions page has additional information that visitors may want to know.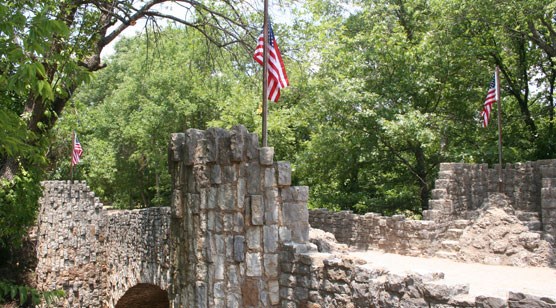 Last updated: January 9, 2022