Fishing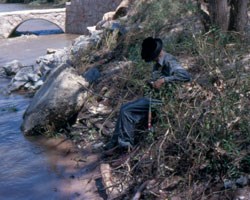 Fishing is allowed in the Lake of the Arbuckles, Veterans Lake and along portions of Rock Creek and Travertine Creek. White bass, largemouth bass, crappie, sunfish and catfish are popular catches. A valid state fishing license is required. Wheelchair accessible fishing docks are available at Veterans Lake and adjacent to the Guy Sandy and The Point boat launches.

Rods and reels only are allowed on Veterans Lake. Methods such as trotlines, yo yo's, sail lines, jug lines, nets, and other means of fishing are prohibited, except at Lake of the Arbuckles. Travertine Creek and other bodies of water east of U.S. 177 including the areas east of the Travertine Nature Center are closed to fishing and other recreational use. Before fishing, be sure to check Chickasaw National Recreation Area's Superintendent's Compendium and the Oklahoma Department of Wildlife Conservation fishing regulations.
Fishing for the Future
Good anglers respect our common natural resources and help to conserve them for others to enjoy. Remember, whatever you bring in, be mindful to pack it out when you leave. Old fishing line, plastic containers, glass, and old hooks can be extremely harmful to wildlife.
Avoid Transporting Aquatic Invasive Species
Aquatic Invasive Species pose a signifcant threat to recreational and commercial waters throughout the United States. Cooperation between agencies and individuals to prevent further spread of these species is vital.

Anglers should:
CLEAN off plants, animals, and mud from gear and equipment including waders, footwear, ropes, anchors, bait traps, dip nets, downrigger cables, fishing lines, and field gear before leaving water access. Scrub off any visible material on footwear with a stiff brush.

DRAIN water from watercraft, motor, bilge, bladder tanks, livewell and portable bait containers before leaving water access. Replace with spring or dechlorinated tap water when keeping live bait before leaving water access.

DRY everything five days or more, unless otherwise required by local or state laws, when moving between waters to kill small species not easily seen OR wipe with a towel before reuse.

DISPOSE of unwanted bait, worms, and fish parts in the trash. When keeping live bait, drain bait container and replace with spring or dechlorinated tap water. Never dump live fish or other organisms from one water body into another.
Visitors who may have discovered new aquatic invasives or new areas of infestation in the state of Oklahoma are encouraged to report to the
Oklahoma Department of Wildlife Conservation
. Early notification can help prevent further spread. Do your part to protect our waterways!
Last updated: May 2, 2019