Swimming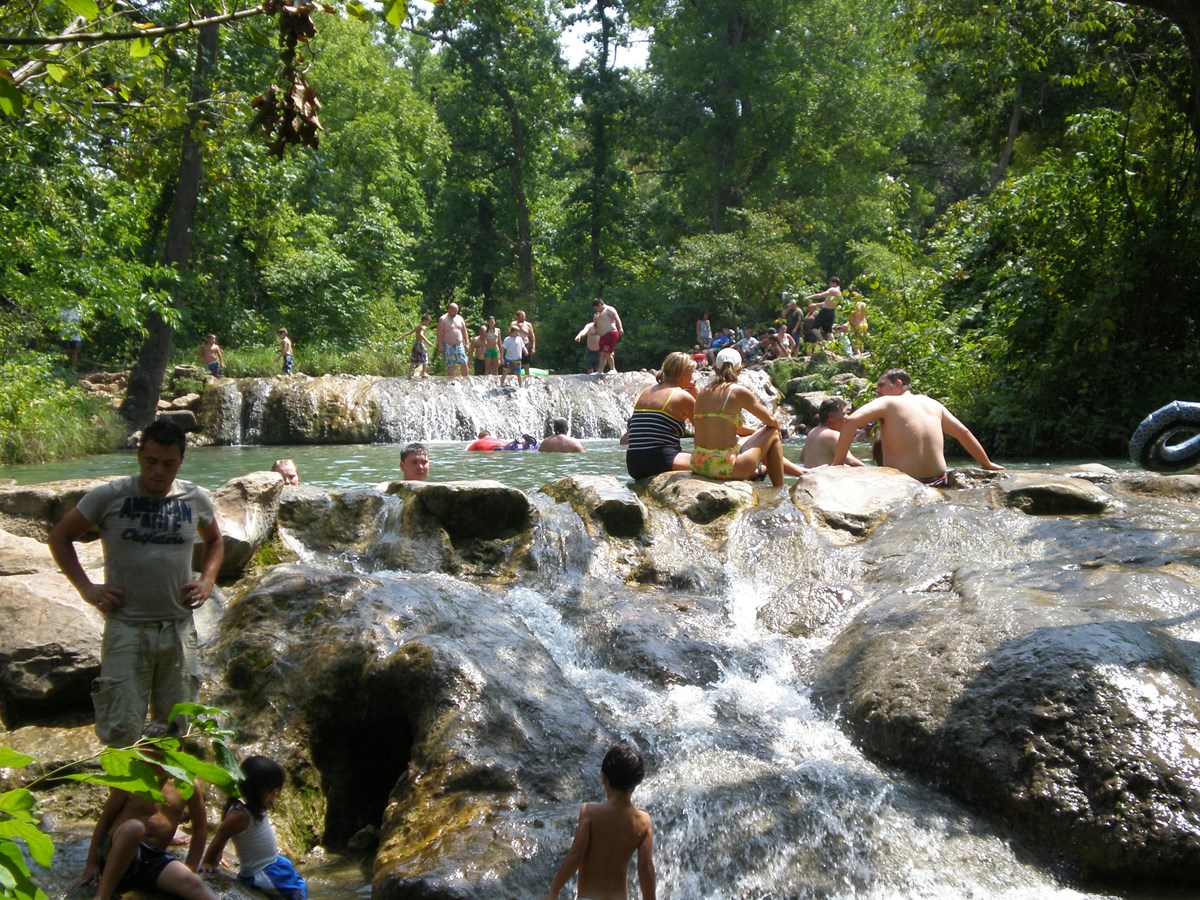 Areas open to swimming
Rock Creek, Veterans Lake, and Lake of the Arbuckles are open to swimming except in the immediate area of any boat launches or fishing docks.

Travertine Creek is open to swimming from Little Niagara downstream. All areas upstream of Little Niagara are closed to swimming and wading.

Things to know before you come

Travertine Creek can be very crowded in summer, particularly on weekends and holidays. Once designated parking spaces are full, cars will not be allowed into the Travertine Creek area until people start to leave and parking spaces are available again. The area is still accessible by trail, but walking distances can easily exceed a mile and a half from the nearest available parking on popular days. Parking rarely fills on weekdays, unless they are holidays, or anytime during late fall, winter, and early spring.

Travertine Creek is spring-fed, and occasionally drys out when the springs stop flowing. Antelope and Buffalo Springs have dried up over twenty times since 1902. Learn more on our springs and seeps page.
Swim Safe!
Choose a safe place for water activities.

There are no lifeguards on duty; all swimming is at your own risk.

Small children and non-swimmers should wear Coast Guard approved life jackets; some areas have sudden drop offs.

Stay within reach of children.

Don't swim alone.

If you swim from a boat, make sure the boat is anchored. Never start the engine while swimmers are overboard.

Water activities and alcohol do not mix. Many drownings are alcohol-related and can be prevented by not drinking alcoholic beverages before or during water sports.

Know local weather conditions and how to find out what is forecasted. The park is located to the south and southwest of Sulphur in Murray County, Oklahoma. Murray County is a small county with a distinctive shape that makes it fairly easy to find on weather radars. Lake of the Arbuckles is a good landmark within Murray County that also shows up on most radar views.

Know how to prevent, recognize and care for hypothermia & heat emergencies.

Enter water feet first, especially if the depth is unknown.

Know your swimming limits.

Do not try to keep up with someone with stronger skills or ask others to keep up with you.

Protect your skin with sunscreen that protects against both UVB and UVA rays and reapply often.
Last updated: April 4, 2022