Your Safety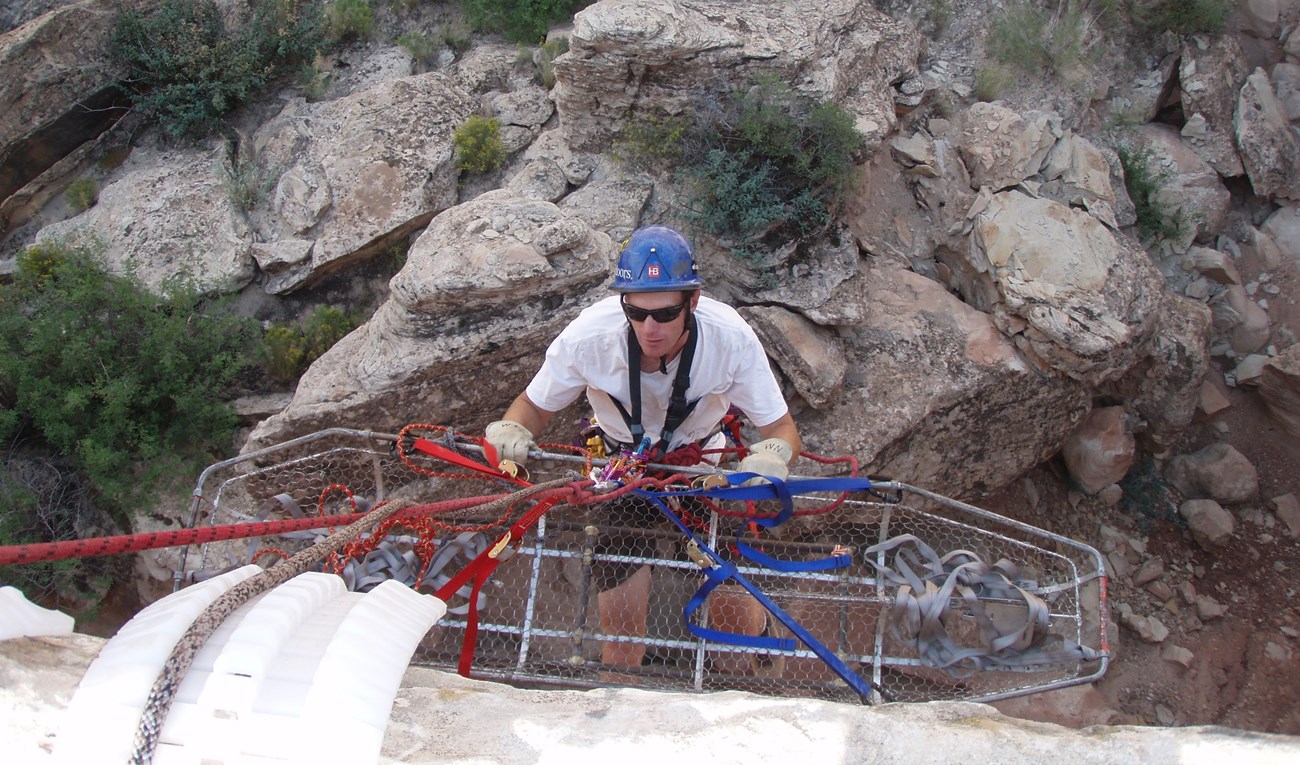 When hiking, climbing, or driving, your safety depends on your good judgment, adequate preparation, and constant awareness. Your safety is your responsibility.
What should I be prepared for when visiting a National Park?
Quite a lot! Recreation, hiking, camping, making memories and more await you at a National Park. While safety incidents are not commonplace, being prepared is the best way to visit safely. From first time visitors, to experienced hikers, each of us are responsible for our actions in regards to safety. Check out a few of the dangers that you may encounter at Capitol Reef National Park and what you can do to ensure you have a safe experience to enjoy for years to come!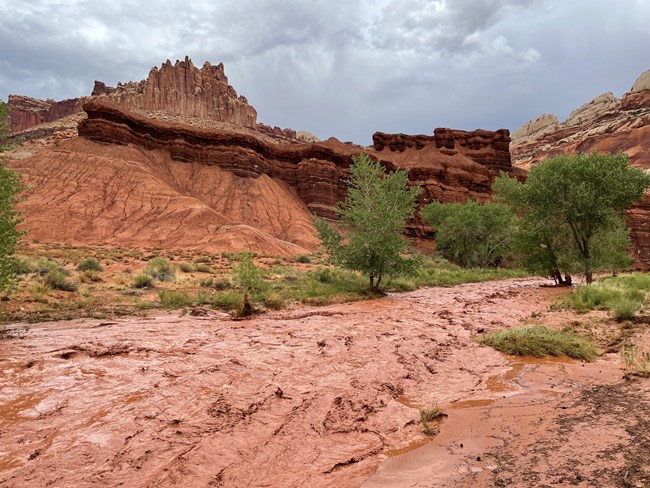 Threat:
Flash floods can be caused by run-off from intense, localized thunderstorms that drop a large amount of rain over a short period of time. They are most common in July, August, and September, but can occur at any time of the year. A flash flood can occur even if precipitation falls outside of the park. Sunny skies over Capitol Reef does not equal flash flood safety!
What can I do?
Check the visitor center for current weather conditions and look at the
forecast
before you hike in canyons. If thunder roars, get out of the gorge! Choose alternative trails located outside of the canyons and gorges or postpone a hike if thunderstorms are predicted. Learn more about
Monsoon Safety
.
Dehydration
Threat:
Dehydration occurs as the body's release of fluids exceeds the intake. The desert is an extreme environment, with high temperatures exceeding 80 degrees for most of the summer, with highs into the 90's or 100's being a common occurrence, and minimal vegetation to provide shade.
What can I do?
Carry enough water, one gallon per person per day. Drinking water is available at the
visitor center
, picnic area, and
Fruita Campground
. Do not drink untreated water or water from the sprinklers. Start your hikes at the beginning or end of the day to avoid the peak heat.
Threat:
Heat exhaustion occurs when the body loses more fluid than is taken in, with core temperatures rising. Symptoms include (but not limited to): Nausea, vomiting, fatigue, headaches, cool and clammy skin, and stomach cramps.
Heat stroke is an advanced stage of heat exhaustion. It is the body's inability to cool itself, with core temperatures rising to dangerous and potentially deadly levels. Symptoms include (but not limited to): Seizures, confusion, disorientation, behavioral changes, and loss of consciousness.
What can I do?
Hike and explore early or late in the day. Limit physical activity during the heat of midday. Drink plenty of water and eat salty snacks. If a member of your party begins to experience any of the symptoms for heat exhaustion, stop your hike immediately. Find a cool, shady area and have the person rest with their feet up to distribute fluids throughout their body. It is important to drink fluids while eating at the same time. Drinking fluids without eating can lead to a potentially dangerous condition of low blood salt. If symptoms persist, seek medical help.
If you believe that a member of your party is suffering from heat stroke, it is imperative to cool them using any available means and obtain immediate medical assistance.
Threat:
Hypothermia occurs when the body is cooled to dangerous levels. Signs of hypothermia include: uncontrollable shivering, stumbling and poor coordination, fatigue, confusion or slurred speech.
What can I do?
Dress in layers and bring additional layers just in case. To prevent hypothermia, avoid cotton clothing as it provides no insulation when wet. Eat high energy food before you are chilled. If you recognize any of these signs, stop hiking and immediately replace wet clothing with dry clothing. Warm the victim with your own body and a warm drink. Find shelter from precipitation and breezes. Additional layers or a pre-warmed sleeping bag will help to prevent further heat loss.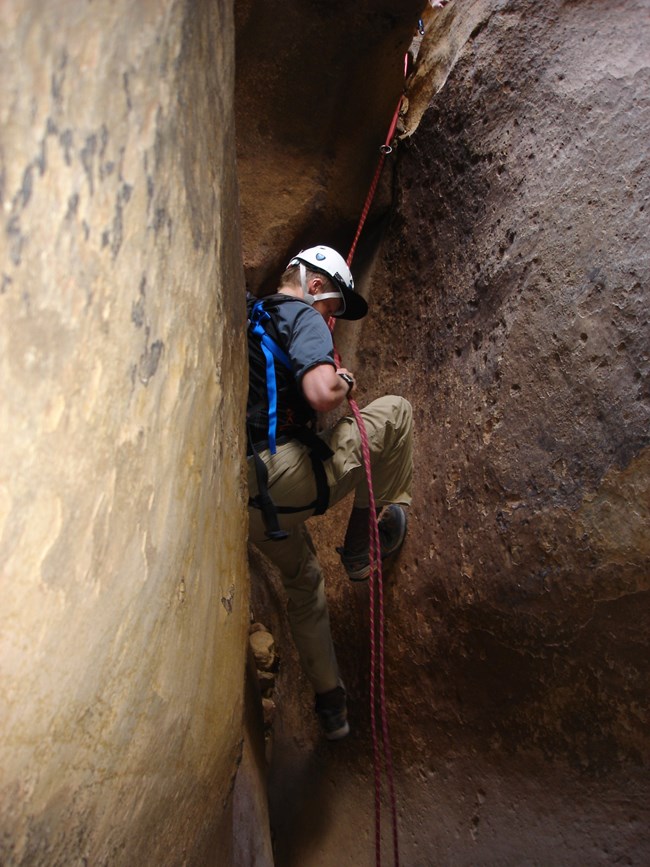 Canyoneering and Rock Climbing
Threat:
Canyoneering
and
rock climbing
(
permits required
) are inherently dangerous activities. Groups should fully research the intended route and be prepared for unknown obstacles. Many canyons require full commitment once started and escape is often not possible. Rescue resources in canyon environments can be limited and groups may be forced to self-rescue. Many canyoneering routes are in remote, seldom-visited areas with no cell phone service.
What can I do?
Know the latest
weather
information. Be familiar with the terrain and know your escape routes. Deadly flash flood waters can travel from many miles away with travel times of 10 hours of more. Don't enter slot canyons or rugged terrain during stormy or wet weather. Sandstone can become weak when wet.
Consider your group's experience and skill level before selecting and entering any canyon. Groups can overestimate their abilities and become delayed or stuck. Notify a friend or family member of your plans before leaving. Plans should include: number of hikers in your party, location of hike, and when you expect to return.
Steep Cliffs & Slick Conditions
Threat:
Falls from cliffs on trails can result in serious injuries or death. Loose sand or pebbles on stone are very slippery and commonly lead to injuries to your extremities. Winter snows can obscure tripping hazards and even edges of steep drop-offs.
What can I do?
Stay on the trail. Do not approach cliff edges and be aware of edges when using cameras and binoculars. Observe posted warnings. Never throw or roll rocks as there may be hikers below you. Please watch your children and keep them close. Learn more about
hiking safely
.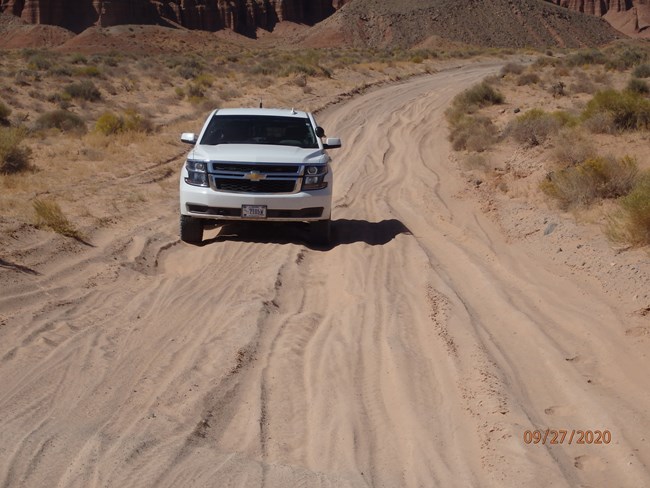 Threat:
Road conditions can change rapidly in Capitol Reef due to weather conditions. A 2WD road into a wash or gorge may become impassable with floods or snow. Even small amounts of precipitation can make roads completely impassable. Limited or no cell phone service may result in rescues or tow trucks taking hours to get to you.
Capitol Reef's roads are used by vehicles, bicycles, hikers, and wildlife. Speeding, not paying attention, or stopping in the middle of the road can result in damage to your vehicle, pedestrians, or wildlife.
What can I do?
Check in at the visitor center for current weather and road conditions. To protect the park's vegetation, please park in designated or posted areas only. Seat belts or child safety seats are required for all occupants in a vehicle, and failure to use them is a primary offense in the park. Don't drink and drive. For your safety, rangers enforce laws against alcohol and drug-related driving offenses, including open container violations.
Obey posted speed limits.
Unless otherwise posted, the maximum speed limit is 25 mph (radar enforced).
Threat:
During harvest season, visitors may pay to pick fruit grown in the 19 historic orchards. Ruts and uneven ground allow for water to irrigate the trees but can be an unseen tripping hazard in taller grass. Climbing a tree could result in a fall with serious consequences.
What can I do? Never climb the trees to pick fruit!
Hand-held fruit pickers and ladders are provided to aid in picking. Be sure the ladder is on firm, level ground with the legs fully extended and the chains pulled tight. Do not stand on the top three rungs and avoid leaning to either side while picking. Children should not use ladders unsupervised.
Firearms
Firearms are permitted in Capitol Reef National Park. As of February 22, 2010, a federal law allows people who can legally possess firearms under federal, Utah, and local laws, to possess firearms in the park. It is the visitor's responsibility to understand and comply with all applicable Utah local and federal firearm laws. Firearms are not permitted inside federal buildings. The discharge, display, brandishing or any indiscriminate use of firearms (including hunting) within the park is strictly prohibited. If you have questions, please contact the park at (435) 425-3791 or visit
Laws & Policies
for more information.
Last updated: March 20, 2023