Paria View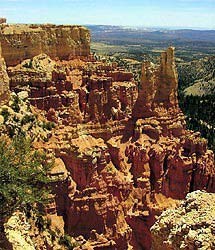 Photographers seeking sunset pictures are often disappointed by the fact that most of the cliffs and hoodoos of Bryce Canyon do not face the setting sun. Paria View is one exception. Here one prominent and photogenic castle-like hoodoo rises high above the canyon floor to absorb the last rays of the setting sun. Paria is a Paiute word meaning "water with elk" or "water with mud". The translation varies depending on context and season.
Geology
As you look down and to the southeast you are gazing into the Paria River watershed. This region is famous for its slot canyons. These slot canyons were carved by rapid rates of runoff during spring thaws in the Ice Age. Even in today's drier climate some erosion continues to occur during flash floods. As a result, hikers are urged to stay out of the Paria Canyons during thunderstorms. This river's watershed is so immense that even a moderate rain can create catastrophic flooding downstream. The bottom of a slot canyon is the last place you want to be when a 30 ft. wall of water comes roaring downstream at 50 mph.
Nature
Paria View is a good place to watch for Peregrine Falcons. Perhaps they prefer the comparative quietness this overlook offers. In the meadows back down the road from Paria View, Mule Deer and occasionally, Elk can be seen. Keeping to the forest during the day, these animals make their subtle appearance during the twilight hours. In late spring you might also spy the Pronghorn Antelope in these forest meadows. Pronghorn leave the sagebrush prairies north of the park to give birth to their young in the seclusion of the forest.
Trails
Although no hiking trails exist in this section of the park this is the location of one of the more popular cross-country ski trails - the Paria Loop. This hilly section of the rim is also a fun and challenging place for snowshoeing.
Services
None
Last updated: March 31, 2012