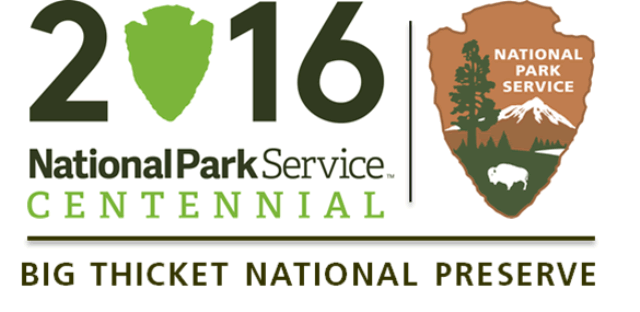 The National Park Service turns 100 years old on August 25, 2016. In recognition of this Centennial, we invite you to participate in Find Your Park experiences and re-discover the value of national parks - to learn, discover, inspire, or simply have fun! Join in and be a part of the growing movement to become stewards of these special places.
Visit the NPS Centennial Website.
A Call to Action: A Call to Action rallies employees and partners to advance a shared vision toward 2016. It describes specific goals and measurable actions that chart a new direction for the National Park Service as it enters its second century. Launched on August 25, 2011, the 95th birthday of the Service, A Call to Action was updated each year since to reflect accomplished work and new actions. Learn More
Find Your Park: Everyone finds their park in a different place and in a different way. These stories just might inspire you to find yours. Learn More
Big Thicket Centennial Activities
Click here for Big Thicket centennial activities, events, and ways to get involved.