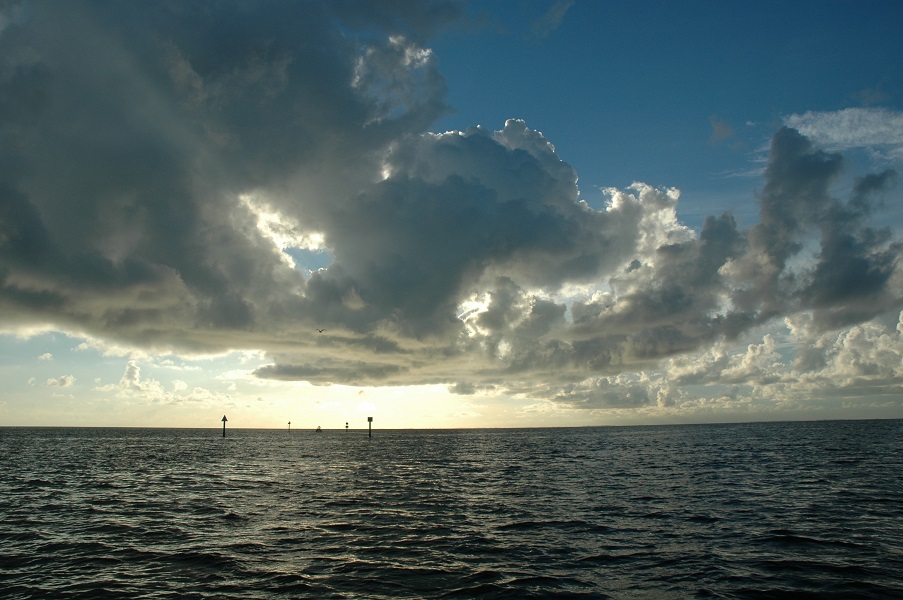 1. Where is Biscayne National Park?
The park is located just south of Miami, Florida. Most of the park is covered by water. Click here for driving directions.
2. What are park hours?
Since the park is 95% water, most of it is accessible by boat and open 24 hours a day. Click here for visitor center hours.
3. What can I do?
The park offers a variety of boat tours, ranger programs and recreational opportunities. Learn more.
4. Can I camp?
There are two park campgrounds. Both are located on islands, Elliott Key and Boca Chita Key. The only access to these islands is by boat. Learn more.
5. Are there cabins or hotels?
Other than camping or staying on a boat, there are no overnight accommodations.
6. Can snorkel from shore?
Snorkeling from the shoreline is fine, but the coastal areas are extremely shallow and include mostly seagrass communities. Park coral reefs are about ten miles from the mainland, so visiting the reefs requires water transportation. Learn more.
7. Where is the beach?
The closest beach reachable by vehicles is located in adjacent Homestead Bayfront Park. It has a swimming lagoon and a small beach that is ideal for children. Beaches in the Florida Keys include Bahia Honda and Long Key. Beaches north of the park include Key Biscayne, Miami Beach and Fort Lauderdale.
8. Is there an entrance fee?
There is no entrance fee, yet fees may be charged for overnight docking, camping and other special uses. Learn more.
9. Can I buy national park passes?
Access Passes (for citizens with a compensable disability) are available during regular business hours at the Dante Fascell Visitor Center. Senior Passes, America the Beautiful Passes and other national park passes are not available in Biscayne. Learn more.
10. Do I need a license for fishing?
A Florida saltwater fishing license is required. Learn more.
11. Is spear-fishing permitted?
Spear-fishing is permited in accordance with Florida regulations.
12. Are jet skis allowed?
Personal watercraft, including jet skis, are prohibited.
13. What about sharks?
Sharks are efficient predators that feed mostly on fish. Shark attacks on people are rare, and usually occur when water is rough and murky (conditions found on beaches, not likely on reefs while snorkeling).
14. Where can I see manatees?
Manatees may be found in the park year round, though they are more often seen in winter. Check the harbor at the visitor center or ask a park ranger about recent sightings.
15. May I volunteer to help the park?
Please do! There are many possibilities and ways to help! Learn more.
16. How can I find out about park events?
Read the latest media releases to stay informed about what is happening at the park including programs, events, wildlife and resource updates, tours, classes, community artist receptions and more.