Guided Tours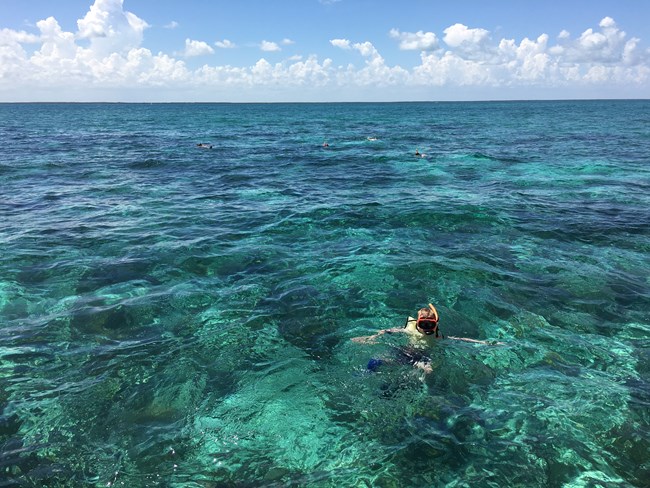 The
Biscayne National Park Institute
provides eco-adventures including snorkeling at a shipwreck on the Maritime Heritage Trail and colorful coral reefs full of life, cruises to Boca Chita Key and lighthouse, sailing on beautiful Biscayne Bay, exploring the seldom seen wonders of Jones Lagoon, and more!
Trips may be booked by using the link above, by calling 786-335-3644 or by stopping at the park store. Advance reservations are advised.
---

Others authorized to operate in the park:
Angler's Obsession - guided fishing trips, 360-485-3181
Arrow Assault Bowfishing Charters - four hour saltwater bowfishing charters. Call for information and booking, 786-708-4973
Explore Miami Boat Rental LLC - sightseeing and snorkeling, 305-714-2121
Horizon Divers - SCUBA, snorkel and sightseeing, 305-453-3535
Island Dreamer Sailing School - sailing, sailing instruction and guided tours. Leaves from downtown Miami area, 561-281-2689
Island Queen Cruises and Tours - private narrated sightseeing tours. Call for booking, 305-379-5119
Miami Sailing Charters - snorkeling, sightseeing and sailing, 305-714-0401
Miami Seaplane Tours - aerial tours over the park. Contact for scheduling and booking. Sea planes do not land in the park. Located at 3401 Rickenbacker Causeway, Key Biscayne, 305-361-3909
Ocean Force Adventures - Stiltsville and Biscayne Bay tours. Daily two hour tours depart from Miami Beach marina. No in-water activities, 305-372-3388
Pelican Island Skipper - departs from Pelican Harbor marina in Miami, 305-754-9330
South Florida Kiteboarding - kiteboarding and kiteboarding lessons, 305-834 0595
Thriller Miami - speedboat, Stiltsville and Biscayne Bay tours, departs daily. No in-water activities, 305-373-7001
Tropic SCUBA - sightseeing and vessel transportation, SCUBA diving and snorkeling, 305-669-1645

How to apply for a Commercial Use Authorization permit.


Last updated: July 9, 2020