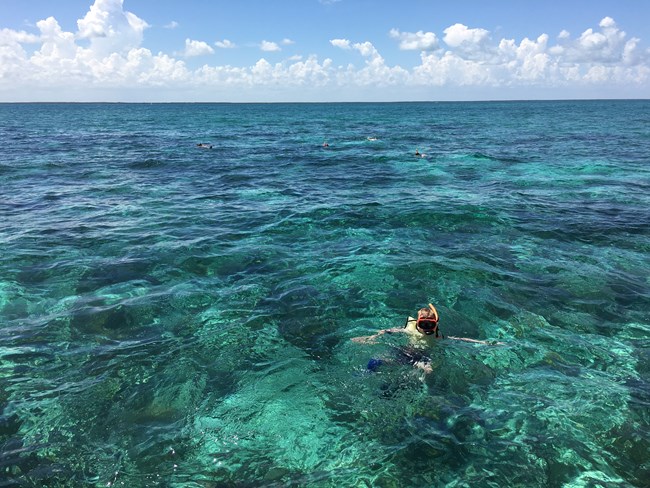 The
Biscayne National Park Institute
provides eco-adventures that include sailing on beautiful Biscayne Bay, interpretive cruises to Boca Chita Key and its lighthouse, snorkeling at colorful coral reefs full of life, camping on undeveloped and scenic Elliott Key, exploring the seldom seen wonders of Jones Lagoon and more! Paddle craft are also available for rent at the visitor center for self-guided tours.
Trips may be booked by using the link above, by calling 786-335-3644 or by stopping at the park store. Advance reservations are advised.
The simple fact of Biscayne National Park is that it is 95% water. The institute provides the means to get out on the water to discover the amazing resources of the park.
Others authorized to operate in the park:

Island Dreamer Sailing School - sailing, sailing instruction and guided tours. Leaves from downtown Miami area, 561-281-2689
Ocean Force Adventures - Stiltsville and Biscayne Bay tours. Daily two hour tours depart from Miami Beach marina, no in-water activities, 305-372-3388
Tropic SCUBA - Sightseeing and vessel transportation, SCUBA diving and snorkeling, 305-669-1645
Anglers Obsession - Guided fishing trips, 360-485-3181
Deco Divers - Snorkeling and SCUBA tours, 305-861-6277
Pelican Island Skipper - departs from Pelican Harbor marina in Miami, 305-754-9330
NecFlo Outfitters - stand-up paddleboards and kayak rentals, hourly rentals and guided tours.
Miami Seaplane Tours - aerial tours over the park. Contact for scheduling and booking. Sea planes do not land in the park. Located at 3401 Rickenbacker Causeway, Key Biscayne, 305-361-3909
Arrow Assault Bowfishing - four hour saltwater bowfishing charters. Call for information and booking 786-708-4973.
Thriller Miami - speedboat, Stiltsville and Biscayne Bay tours, departs daily, no in-water activities, 305-373-7001
How to
apply
for a Commercial Use Authorization permit.