Camping in Biscayne National Park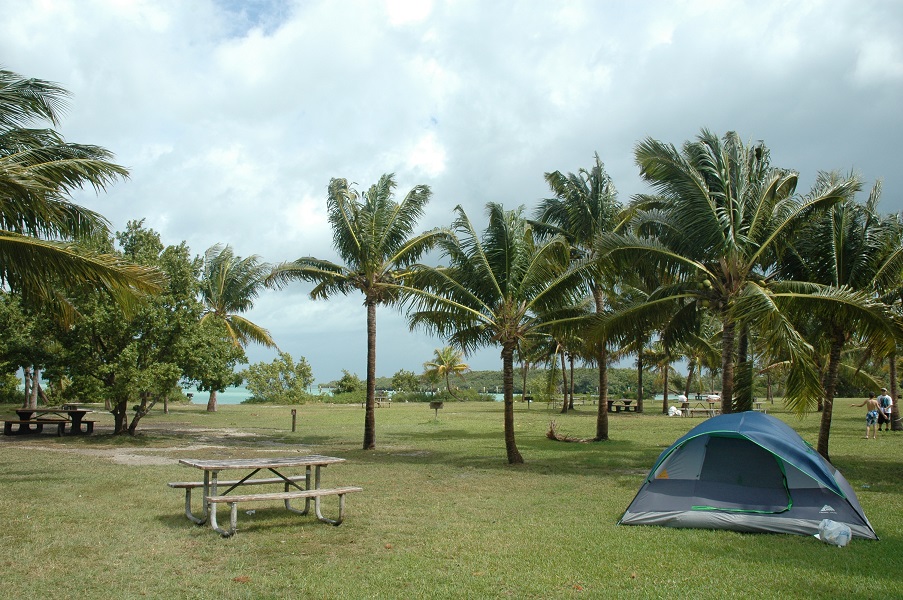 Park campgrounds are located at Boca Chita Key and Elliott Key. The only access to these islands is by boat. Camping is on a first-come, first-served basis. Reservations are not accepted for either campground.
Fees:
$25 per night including tent site and docking for a boat in the harbor (no reservations, first-come, first served).
$30 per night for the group site (see Elliott Key page for details).
$10 per night with senior pass.
All camping and docking fees are waived from May 1 to September 30 each year.
Fees are the responsibility of the camper, and should be paid upon arrival. Any vessel in the harbor after 5:00 p.m. is considered an overnight stay, and fees must be paid in cash (bills or coins) at the kiosk near the harbor.
There is no RV camping in Biscayne National Park.
Boca Chita Key is the park's most popular island, and features an open, waterside, grassy camping area with picnic tables and grills. Toilets are available on the island, but there are no sinks, showers or drinking water.

Elliott Key is the park's largest island, and features both waterside and forested camping areas. Picnic tables and grills are available. Restrooms with sinks and cold water showers are available. Drinking water is available on the island, but bring some of your own as a precaution should the system go down. Two trails tunnel through the island's tropical hardwood hammock. One trail runs the entire 7-mile of the island (14 miles roundtrip), and another loops for approximately one mile near the harbor.