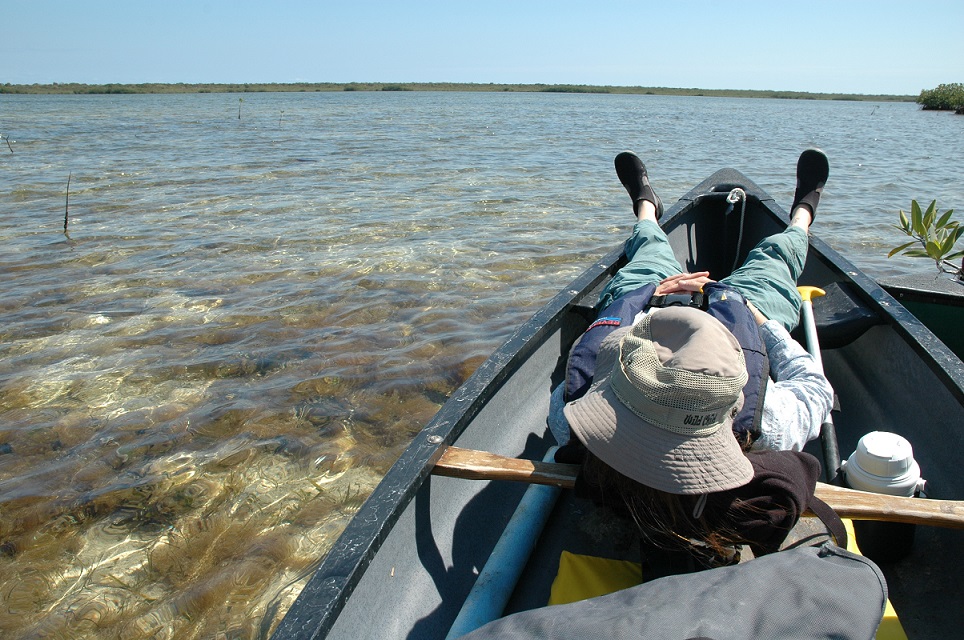 Canoeing and kayaking are great ways to explore the park's mangrove-fringed shorelines and shallow bay waters. More experienced kayakers may enjoy crossing Biscayne Bay's 7-mile expanse to camp at Elliott Key or Boca Chita Key. Adams Key is also a popular launching spot for those wishing to explore these areas south of Caesar Creek. Using the islands as a base camp will allow exploration of the lagoons, creeks and channels south of Caesar Creek. Many of these places are far too shallow for any type of motorized vessel, so canoeists and kayakers are likely to have these places all to themselves.
Shallow
Jones Lagoon
is a great place to see sharks, rays, upside-down jellies, huge schools of fish and large wading birds. There is a bird rookery within Jones Lagoon that should not be disturbed; kayakers and canoeists should remain at least 300 feet from this rookery whenever possible and minimize disturbance to the birds. Click
here
to download a Google Earth file which shows paddling routes for exploring Jones Lagoon, the location of the rookery and the recommended setback distance. This file also shows suggested anchoring areas for those who are bringing their canoes/kayaks into the area by motorboat.
Hurricane Creek
provides spectacular canoe and kayak opportunities. Hurricane Creek, which was named for the fact that old-timers would tie their boats here during big storms, offers excellent snorkeling beneath mangrove roots to observe sea squirts, crabs, anemones and other marine life. Rocky ledges and giant sponges provide hiding places for spiny lobster, though this area is within the Biscayne Bay-Card Sound Lobster Sanctuary and harvest is prohibited.
Canoe, paddle board and kayak rentals are available at the
Dante Fascell Visitor Center
from Biscayne National Park Institiute. Visit
BiscayneNationalParkInstitute.org
or call 786-335-3644 for more details. Visitors with paddle craft of their own can launch them for free at the visitor center. Leaving a vehicle in the parking lot overnight is permitted when camping on one of the park islands, but please stop in the visitor center to fill out a free parking permit.