Canoeing and Kayaking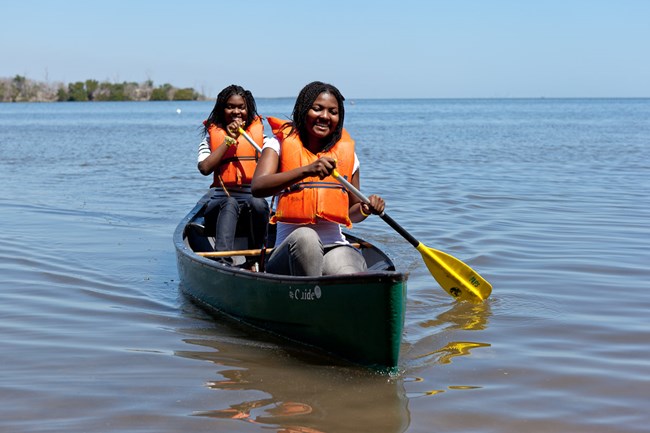 Canoeing and kayaking are ideal ways to explore the mangrove fringed shorelines and shallow bay waters of the park. More experienced kayakers may enjoy crossing the seven mile expanse of Biscayne Bay to Elliott or Boca Chita Keys. Adams Key is a popular launching spot for accessing these areas from the south. Using the islands as a base camp will allow exploration of the lagoons, creeks and channels south of Caesar Creek. Many of these places are too shallow for motorized vessels, so canoeists and kayakers are likely to have these places to themselves.

Shallow Jones Lagoon is a great place to see rays, upside-down jellyfish, schools of fish and wading birds. Be careful not to disturb the bird rookery (stay at least 300 feet away).

Hurricane Creek provides spectacular canoe and kayak opportunities. The creek was named for the fact that old-timers would tie their boats here during big storms. It offers excellent snorkeling beneath mangrove roots to observe sea squirts, crabs, anemones and other marine life.

Launching your own paddlecraft is allowed from the designated area adjacent to the parking lot and is free of charge. Leaving a vehicle in the parking lot overnight is permitted when camping on one of the park islands, but please stop in the visitor center to fill out a free parking permit.

Please note that canoe/kayak rentals are not currently offered at the park.


Safe paddling practices -
Paddle with a buddy
Have a float plan - let someone know where you're going, when you plan on returning and who you're with
Check the weather - be prepared for wind, rain and unexpected weather
Carry water, food and sun protection
Paddle within your experience level
For more on Water Safety, please visit: Water Vessel Safety - Health & Safety
Last updated: April 28, 2021