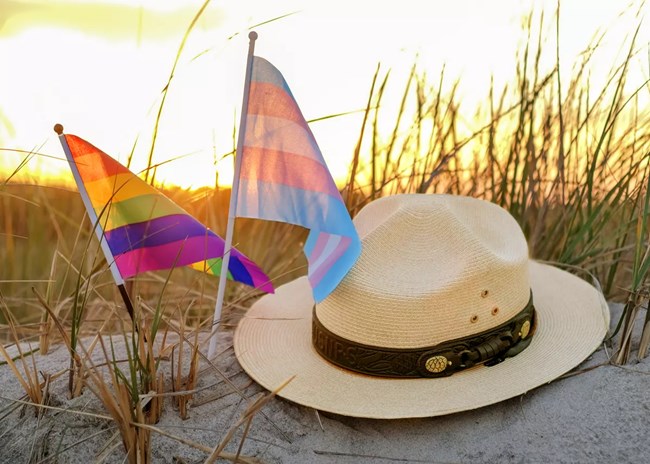 The NPS preserves a variety of places commemorating America's multi-faceted history. The NPS preserves cultural resources, such as buildings, landscapes, archeological sites, and museum collections. They serve as tangible evidence of our collective past.

Find a Park to find more of all Americans' stories.
Celebrate LGBTQ Heritage at parks
Read about these Additional Parks with LGBTQ Heritage
Created by the Alaska National Park Service, this video series recognizes, celebrates, and honors the rich diversity of the US, including the LGBTQ community. Employees share stories of their own early struggles as well as encouragement for others.
---
During WWII, rejection from military service based on sexuality began to make headlines. LGBTQ veterans rallied to overcome these obstacles and launch LGBTQ rights movements in San Francisco and nationwide.
---
From Oscar Wilde's visit to the island in 1882, to the steady development of Cherry Grove as "America's First Gay and Lesbian Town," Fire Island has long been a home and haven to LGBTQ visitors and residents alike.
---
From sit-ins drawing attention to gender non-conforming discrimination to one of the country's first LGBTQ bookstores, Philadelphia's LGBTQ history follows the city's rich tradition of protest and activism.
---
There have been LGBTQ members of the Longfellow family as long as there have been Longfellows. Family members' personal papers give insight into these relationships.
---
A place of beauty, serenity, and local and national prominence, the Memorial Grove gives a sense of honor and a home in our national landscape for the millions of lives touched by AIDS.
---
The statue of General von Steuben honors the Prussian-born Revolutionary War general who has recently been embraced as the "gay man who saved the American Revolution."
---
The first woman to take a series of photographs in Mammoth Cave, Frances Benjamin Johnston was no stranger to journalism or the support of women who walked on the edges of traditional female roles. She later opened a photographic studio with her partner, Mattie Edwards Hewitt, in New York.
---
Boston's LGBTQ community booked Faneuil Hall for its first Gay and Lesbian Town Meeting in 1977. The meetings deliberately imitated the old Boston town meeting as a nod to the revolutionary era and a symbol of the LGBTQ movement's legitimacy in the history of American political protest.
---
Over the past 200 years, the Charles Street Meetinghouse has served a safe haven for some of Boston's radical thinkers. By 1970, the Meetinghouse became synonymous with radical acceptance, hosting LGBTQ-friendly social events and welcoming the community.
---
Val-Kill has been an inclusive place since its creation in 1926. Learn more about the important contributions of LGBTQ people who made history at Eleanor Roosevelt's home.
---