Alice Austen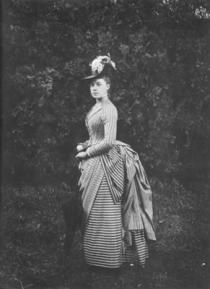 Elizabeth Alice Austen was born in 1866 in Staten Island. She was one of America's earliest and most prolific female photographers. She lived most of her life in "Clear Comfort" which was her maternal grandparents' home. "Clear Comfort" is now a National Historic Landmark, and is run by the NYC Department of Parks and Recreation. It is located about six blocks north of Fort Wadsworth.
Oswald Muller, Alice's uncle, brought home a camera when she was ten years old. This camera was believed to be a dry plate camera. As Oswald experimented with the camera Alice watched and helped by holding the camera steady on its tripod. Oswald was a sea captain, and when it was time for him to sail away again, he gave Alice permission to use the camera. Alice's other uncle, Peter, was a chemistry professor, and taught her how to devlop the glass plates she exposed and how to make prints from them.
By the time Alice was 18, she was an experienced photographer with professional standards. Her family members and the Austen house and gardesn served as her first subjects. She also made early self-portraits, perhaps, because no one else would pose for her.
Alice was active and social. She took her equipment, which weighed as much as fifty pounds and filled a steamer trunk, everywhere she went. She photographed Midland and South Beaches in Staten Island, as well as winter skating parties on Staten Island's frozen ponds and creeks. She enjoyed many sports, including the new sport of lawn tennis. In 1885 the first tennis club in the nation was established in Livingston, Staten Island. Alice spent many afternoons there, both as a player and taking photos of the other players and spectators.
During the 1890's Alice began to travel outside of Staten Island, to upstate NY as well as Vermont, Illinois and Massachusetts. She also began traveling to Europe at this time. In addition to photographing her travels to these areas, Alice would take pictures of everyday people in NYC.
Alice lived a privileged life, and was a prominent member of Staten Island society, until the Stock Market Crash of 1929. From that point on she had to struggle to survive. Alice and Gertrude Tate, her life-long companion, tried to open a Tea Room on the lawn of the family house, but were never able to achieve a profit. She began to sell off her possessions, and mortgaged her house several times until she lost it in 1945. She sold off all of the remaining items in the house to a dealer in NJ, except for her glass-plate negatives.
Alice declared herself a pauper in 1950 and was admitted to the local poor house. At the same time Alice's negatives were discovered by a group planning to write a book on the history of American women. Alice was able to make enough money from the publishing of these photos to move into a private nursing home.
Alice died in 1952 and was buried in the Moravian cemetery in Staten Island. Although she and Gertrude wished to be buried together, their families denied their wish.
Last updated: February 26, 2015