Fire Island's LGBTQ Heritage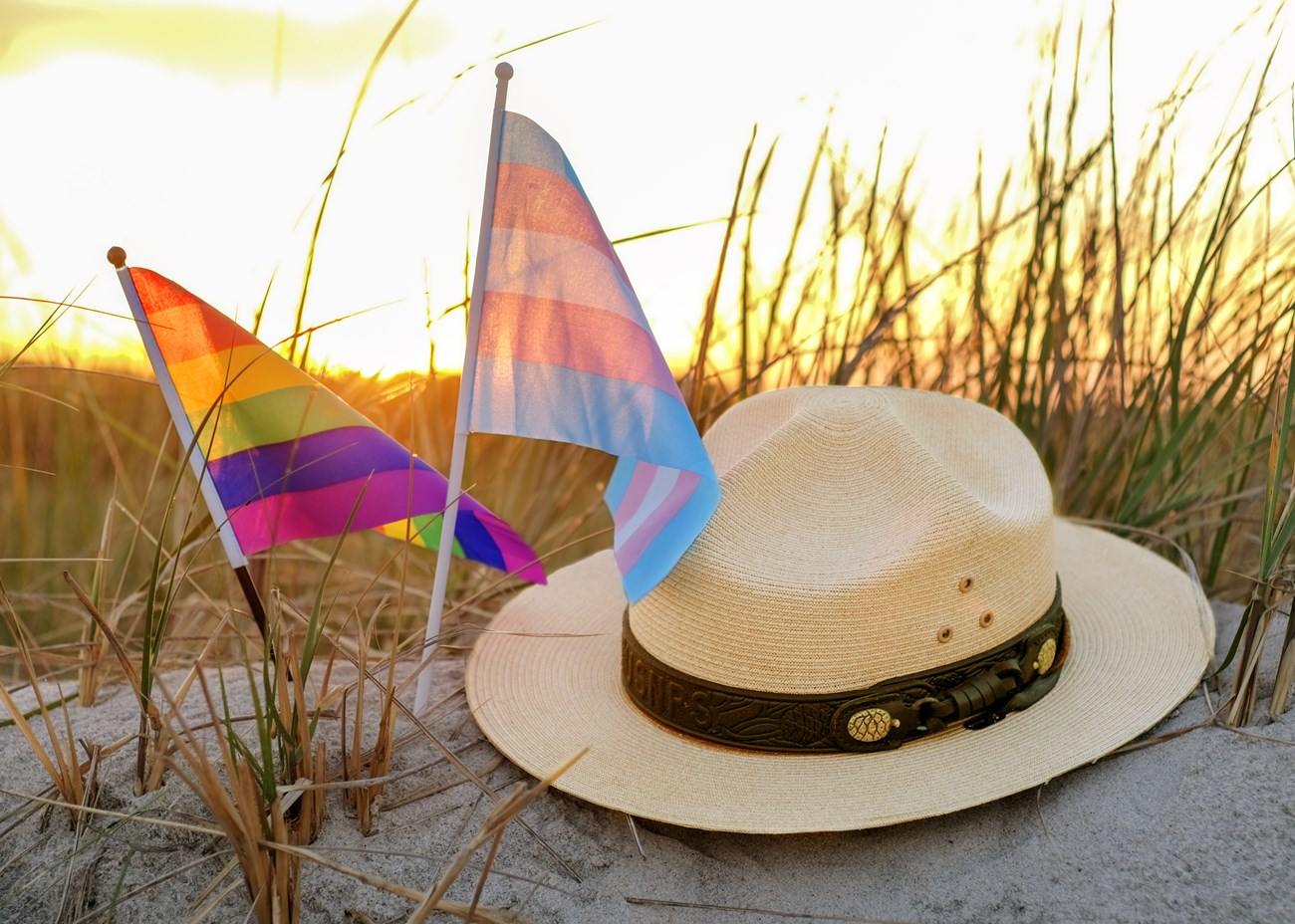 From Oscar Wilde's visit to the island in 1882, to the steady development of Cherry Grove as "America's First Gay and Lesbian Town," Fire Island has long been a home and haven to LGBTQ visitors and residents alike.
Owing its development to the island's relative isolation, its proximity to New York City, and to the efforts of early renters and homeowners, Fire Island's LGBTQ community became a trailblazing force across America. Long before the Stonewall Riots set the movement for Gay Liberation into motion, Fire Island provided an important enclave to residents and visitors at a time when almost everything about living openly as a lesbian, gay, bisexual, transgender, or queer (LGBTQ) person was illegal in the United States. Fire Island towns such as Cherry Grove, and later Fire Island Pines, were among the few places where LGBTQ people could congregate and express themselves openly.
For many, Fire Island was something of a cultural laboratory. Free to be themselves, early LGBTQ residents and visitors experimented with theatre and art in ways that would actively shape and define LGBTQ culture for decades to come.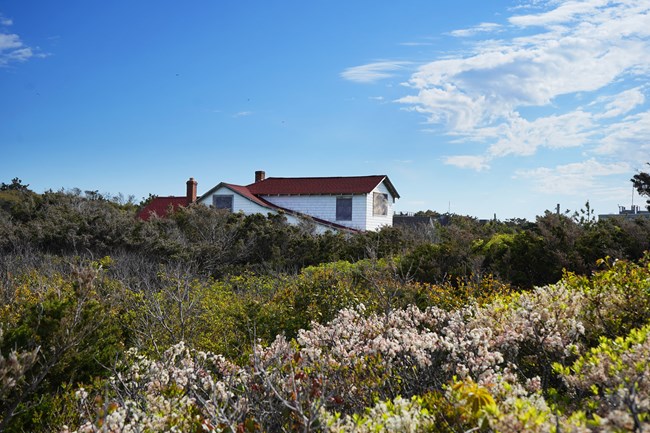 Did you know there are two sites on Fire Island listed on the National Register of Historic Places in part because of their role in LGBT history?
The Carrington House
Tucked away on the small tract of National Seashore land which separates Cherry Grove from Fire Island Pines is the Carrington House, a beach bungalow situated near Fire Island Pines. Built in 1909 as a summer home by Frederick Marquet, the cottage is associated with the earliest wave of development of Fire Island as a popular recreational destination. It's a prime example of the kind of unique architecture that has come to define many of Fire Island's communities. The site also includes a smaller guest house composed of two outbuildings purchased from the abandoned Lone Hill Lifesaving station.
The Carrington House's LGBT connection likely begins with its purchase by Frank Carrington in 1927. Throughout the 1930s and 40s, Frank Carrington expanded the house, and often invited guests to stay on the secluded maritime property. He was a prominent theater director and patron of the arts with a large circle of acquaintances who helped to establish the Arts Project of Cherry Grove, an influential organization which had a significant impact on the development of the small beach town.
Though it is unknown whether or not Frank Carrington would have identified as LGBTQ, many of his guests were well-known members of the LGBTQ community. Perhaps most famously, Truman Capote spent a summer in Carrington's guest house with his partner, Jack Dunphy, where he is said to have completed his most famous novella, Breakfast at Tiffany's.
Frank Carrington was one of many influential residents of the island who, in its early days, helped to draw artists, performers, publishers, and other prominent New York City socialites to the isolated island paradise. Through their web of friends, colleagues, and acquaintances, these residents and renters helped to establish Cherry Grove's reputation as an artistic community, and one that was tolerant, if not always friendly, to LGBTQ living.
This summer the Carrington Guest House will be undergoing renovations. Our hope is to have the Guest House fully restored to its original glory so that we may begin hosting a variety of community programs which include the layered LGBTQ history of the site, as well as of Cherry Grove, and Fire Island Pines.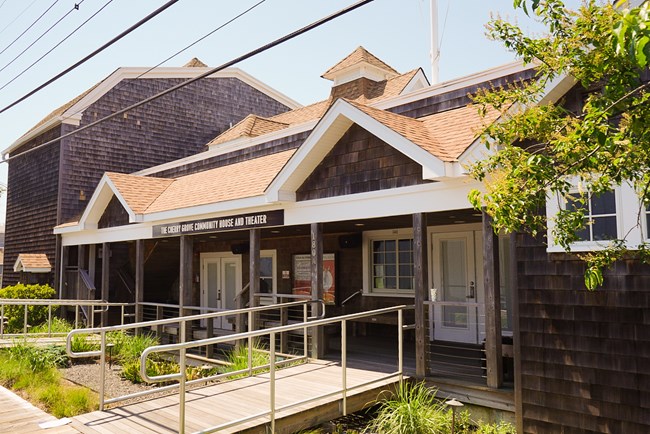 The Cherry Grove Community House and Theater

At the heart of Cherry Grove stands the Cherry Grove Community House and Theater, the second of two sites on Fire Island listed on the National Register of Historic Places in part because of the role they played in LGBT history.
The Cherry Grove Community House is exceptionally significant for the enormous role it played in shaping what gradually evolved into America's First Gay and Lesbian Town. The building itself was originally constructed on Long Island and later floated across the Great South Bay to serve as the community house for the Cherry Grove Property Owners Association, Inc., which organized in 1944 to serve this small beach colony's civic needs. When a small stage was added in 1948 it also became home to the newly incorporated Arts Project of Cherry Grove.
Previously we talked a bit about Frank Carrington and the Arts Project of Cherry Grove. From its earliest days it would have a massive influence on the wider culture of Cherry Grove and Fire Island. With the overwhelming popularity of theatre as a focal point for culture and entertainment in the United States, the Arts Project of Cherry Grove was uniquely positioned to bridge the divides between bohemian renters and local homeowners.
As organizations, the Cherry Grove Property Owners Association and Cherry Grove Arts Projects profoundly influenced the community's development, facilitating the gradual social acceptance, self-affirmation, and integration of its gay and lesbian residents into Cherry Grove's governing affairs and civic life. This integration of LGBTQ residents into daily life and events at its community house afforded Cherry Grove a singular status; it became the one of the first and, for many years, the only gay and lesbian influenced geography in the United States.
Its metamorphosis played out against turbulent social and political upheavals -- our nation's response to the pre- and early days of the homosexual liberation movement. The 1969 uprising at the Stonewall Inn, which is largely credited as the turning point in the gay civil rights movement, has been documented by numerous scholars. The nomination of the Cherry Grove Community House and Theatre to the Register of Historic Places is especially significant because it offers the rare opportunity to document an entire LGBTQ community in the pre-Stonewall era.
Last updated: July 7, 2021