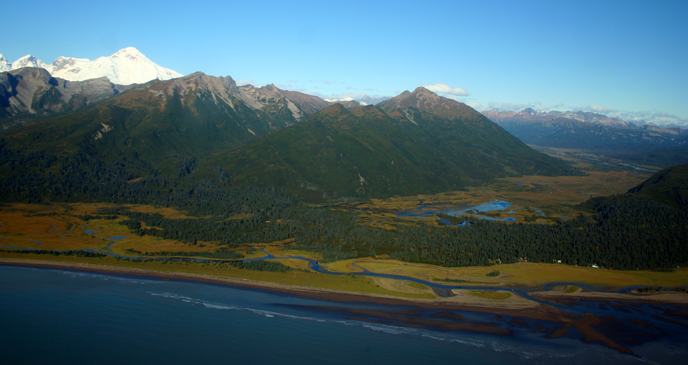 NPS/K. Jalone
Quick Facts and Stats
Purpose:
Lake Clark was established to protect a region of dynamic geologic and ecological processes that create scenic mountain landscapes, unaltered watersheds supporting Bristol Bay red salmon, and habitats for wilderness dependent populations of fish and wildlife, vital to 10,000 years of human history.
Established:

December 1, 1978 - Designated as a National Monument by President Carter
December 2, 1980 - Designated as a National Park and Preserve and enlarged by congress through the Alaska National Interest Lands Conservation Act (ANILCA).
Size:

Total - 4,030,006 acres
National Park - 2,619,713 acres
National Preserve - 1,410,293 acres
For comparison, the state of Hawaii is 4.11 million acres in size, and Rhode Island and Connecticut combined are only 3.77 million acres.
Additional Designations
Plants:

~800 plant species, 30 of which are not native to the area.
Fish and Wildlife:

37 species of terrestrial mammals
190 species of birds
1 species of amphibian
25 species of freshwater and anadromous fish
147,000 to 3.1 million red salmon migrate into Lake Clark via the Kvichak watershed each year as recorded at the Newhalen Counting Station.
~13,000 red salmon are harvested by subsistence users up-stream of the Newhalen Counting Station.
Geology
2 active volcanoes, Iliamna and Redoubt
4 confirmed eruption events in recorded history
3.6 cubic miles of ice in the four largest glaciers on Iliamna Volcano, which is triple the amount of ice and perennial snow on Mt. Rainier in Mount Rainier National Park (measured as volume).
81,000 acres of glacial ice has melted since the mid 1950s (measured as surface area).
The highest point in the park is Redoubt Volcano at 10,197ft above sea level.
Annual Base Budget:

2014 - $3,272,000
2013 - $3,101,300
2012 - $3,297,300
2011 - $3,301,000
2010 - $3,295,300
2009 - $3,061,530
2008 - $2,487,800
2007 - $2,135,300
More Park Facts and Stats
Available in the downloadable Fact Sheet.