Chinitna Bay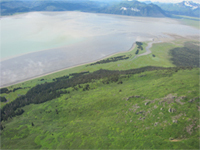 M. Richotte
Chinitna Bay on Cook Inlet offers world class bear viewing along the beach, in the meadows in the uplands, and in the rivers at the head of the bay as the salmon begin to run. Unique concentrations of food promote high numbers of bears intent on foraging the protein rich sedges, clams, and salmon. In addition to bear viewing visitors to Chinitna Bay can walk and explore the wide beaches, fish, and clam dig. A trip to Chinitna Bay offers a unique wilderness experience in the heart of coastal bear country.
While the Chinitna Bay meadows are closed to visitors, identified viewing locations offer spectacular views of the bears grazing the meadows. Visitors may be able to see as many as twenty coastal brown bears from a single location.
Stay Safe

Be bear aware: Be cautious and make noise as you travel to the marsh. Traveling on established trails reduces the chance of surprising a bear. Ensure all gear is on your person or inside aircraft. Do not leave gear unattended.
Don't feed wildlife! Clean clams and fish below the tide line and cast remains into the ocean. Ensure food is properly stored at all times.
Need Help? A Ranger Station is located 1 mile east along the beach from the trail to the bear viewing site.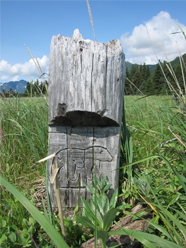 NPS Photo
Directions and Regulations

The trail to the meadow is marked by a carved stump featuring a bear.
The Chinitna Bay marsh is closed beyond the slough at the bear viewing site (see map below). Please do not venture into the meadow.
Eating is prohibited at the bear viewing site. All food must remain inside gear.
Attend to your food: If you have any food with you, you must keep it on you at all times while visiting Chinitna Bay, or store it in an approved bear resistant food container.
Did You Know?
The Snug Harbor Cannery off the coast of Lake Clark National Park and Preserve operated from 1919 to 1980. In its early years the cannery used fish traps, which were banned after Alaska gained statehood.